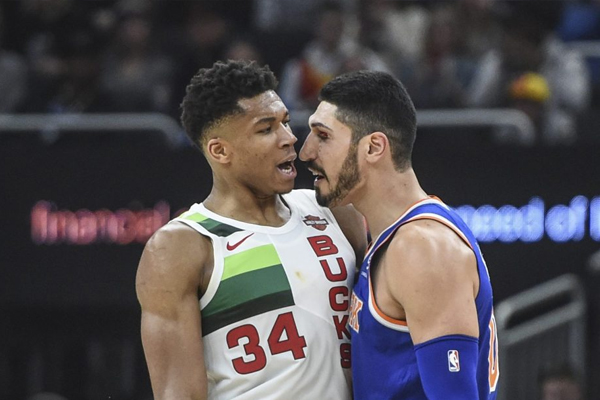 New York Knicks center Enes Kanter was ejected from Thursday's against the Milwaukee Bucks early in the fourth quarter.
The altercation occurred in the fourth quarter after Antetokounmpo drove to the basket and was knocked down by Kanter, no foul was called. Antetokounmpo ran back up the court and went face-to-face with Kanter before the two were quickly separated.
Giannis and Enes Kanter got heated ? pic.twitter.com/mnVbVeBAUH

— SportsCenter (@SportsCenter) December 28, 2018
After a review, each player was called for a technical foul, but Kanter was then called for a second technical, leading to an automatic ejection. Kanter didn't realize he had been ejected until reporters told him after the game, he thought he was simply leaving the game for stitches.
Enes Kanter learned AFTER the game that he was ejected following his altercation with Giannis. pic.twitter.com/HzTeT56LZL

— SportsCenter (@SportsCenter) December 28, 2018
During the scuffle, Bucks assistant coach Darvin Ham came between Kanter and Antetokounmpo, but his involvement was not appreciated by Porzingis, who said he didn't like seeing an opposing team's coach grab his teammate from behind.
"That was some bs tonight!!!" Porzingis, said. "And that bucks assistant coach needs to sit his ass down before grabbing Enes like that. Grab your own players not the opp. team."
Kanter also was critical of Ham, saying,
"An assistant coach cannot football-tackle a player. The priority is to protect their players."
The Knicks went on the lose the game 112-96, making a bad day even worse for Kanter.