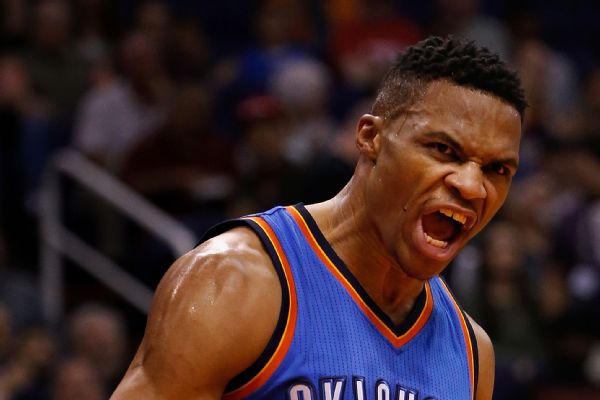 Deep breaths, Oklahoma City Thunder fans. Russell Westbrook is going to be just fine.
At least, that's what the team thinks.
Though Westbrook has been ruled out for the Thunder's next game against the Cleveland Cavaliers with a left ankle injury, this is not considered to be a huge setback that will indefinitely sideline him, per ESPN.com's Royce Young:
Oklahoma City Thunder guard Russell Westbrook has been ruled out for Wednesday's game against the Cleveland Cavaliers, the team announced Tuesday.

Westbrook sprained his left ankle late in the third quarter jumping for a rebound. After letting out a scream and slapping the floor, Westbrook limped straight to the locker room and did not return. X-rays were negative and after further evaluation Tuesday, it was confirmed it was nothing more than an ankle sprain that looked worse than it actually is.
Only one word is appropriate if you're a Thunder fan: Phew.
Whatever you think of Westbrook, he is indispensable to Oklahoma City. His sheer force on offense overrides a lot of their spacing issues. And with Paul George struggling to shoot the rock early, it's imperative the Thunder have him on the floor. He already missed the beginning of the season, and their offensive rating is plunging by 14.9 points per 100 possessions overall when he takes a seat, according to NBA.com.
One missed game shouldn't be a big deal—especially because it comes against a sad-sack Cavaliers squad that doesn't have Kevin Love. Even two doesn't matter, since Oklahoma City plays again on Thursday. Any absence longer than a couple of games, though, and Thunder fans should feel free to worry.