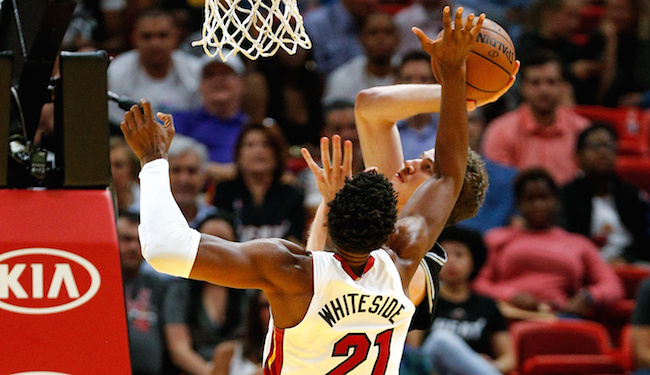 Hassan Whiteside did something Wednesday night that hasn't been done since 1989. He continued his reemergence with the Heat with a ridiculous 29 point, 20 rebound and 9 blocks performance in the Heat's 95-88 victory over the Spurs.
The last player to put up that sort of stat line in the NBA is the one and only Hakeem "The Dream" Olajuwon.
Here is a video of Whiteside's dominance…
Whiteside is now averaging 12.4 points, 14.6 rebounds and 2.8 blocks per game in only 27.9 minutes per game for the Heat.
Whiteside may not be the defensive presence or leader that the Heat would want him to be and is not worth his current $20 million annual price tag, but he is still a valuable asset with two elite NBA talents: shot blocking and rebounding.
We have a number of truly elite rebounders in the league right now with Andre Drummond, DeAndre Jordan, Rudy Gobert, Enes Kanter etc. and Whiteside is firmly in that tier.