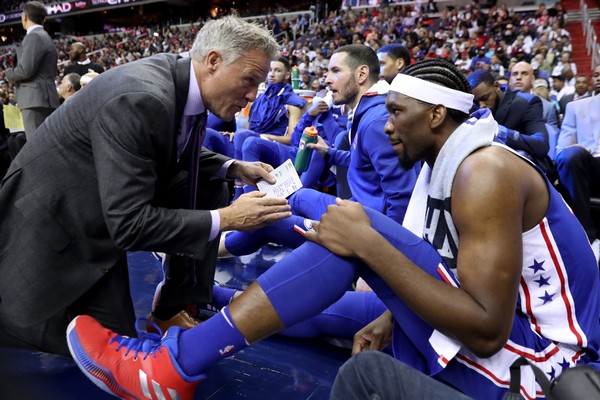 The Philadelphia 76ers apparently remain uninterested in trading for Jimmy Butler. Here's Kyle Neubeck of Philly Voice: 
Despite reports insisting the Sixers' interest in Jimmy Butler has picked up, sources who spoke to PhillyVoice insist the team's lukewarm stance on the Minnesota star has not changed despite Philadelphia's tough start. . .

Sources familiar with the situation insist the Sixers' interest in Butler has been overstated throughout the process. High-ranking members of the front office have noted Butler's clashing with the young pieces surrounding him in Minnesota, primarily Karl-Anthony Towns and Andrew Wiggins, and remain wary of introducing Butler's personality into a locker room and culture they have spent years building under head coach Brett Brown, as PhillyVoice reported in mid-September.
This runs contrary to a recent report from The New York Times' Marc Stein, which stated the Sixers' sloppy start rendered them more likely to party-crash trade talks. Stein is a credible reporter, so I'm personally not inclined to dismiss his findings in the least. That being said, it doesn't make a ton of sense for the Sixers to go all-in on a Butler deal. They didn't do it for Kawhi Leonard, who is also a free agent this summer, and he's a far superior player. Why would they do it for Butler, who is both older and has Tom Thibodeau mileage on his legs?
Plus, Butler isn't really the best fit for the Sixers. They could use his offensive playmaking, but they're in greater need of off-ball scorers. Though Butler has been hitting a reasonable number of his spot-up three-point attempts, he's never been tasked with assuming a predominantly off-ball role. There's no telling how well he'd mesh with Ben Simmons, Joel Embiid and, assuming he isn't a part of any hypothetical deal, Markelle Fultz.
If the Sixers are even the slightest bit interested in him, they're better off waiting until the summer, when they'll have cap space and his arrival won't cost them valuable assets.