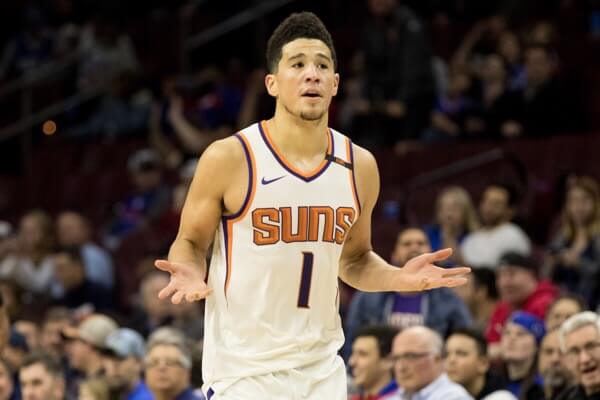 The Phoenix Suns are sending Brandon Knight and Marquese Chriss to the Houston Rockets for Ryan Anderson and De'Anthony Melton, according to ESPN.com's Adrian Wojnarowski. Even if you are into gambling on sports I don't think you would have seen that one coming a a couple years ago when Brandon Knight was a sought after stud. And you know what? They might not be done dealing.
As Woj noted:
Anderson will be the Suns starting power forward, and front office will continue to pursue trade scenarios to bring on a starting-caliber point guard before start of season. https://t.co/uLs5TT7IqU

— Adrian Wojnarowski (@wojespn) August 31, 2018
The urgency with which Phoenix will approach the point guard trade market remains unclear. This team is clearly invested in winning now if it plans to start Ryan Anderson, but Woj also relayed that they have high expectations for Shaquille Harrison:
The Suns traded for Anderson with an expectation that he could start at power forward. With the loss of Knight, the Suns plan to continue pursuing a trade for a starting-level point guard before the regular season.

Second-year guard Shaq Harrison is expected to get minutes as a backup point guard, and rookie guard Elie Okobo, the 31st pick in the June draft, could see minutes too.
If the Suns are still catering to the long view, they'll give a combination of Harrison, Melton and Okobo a shot while also running positionless lineups that feature Devin Booker and Josh Jackson as the primary playmakers. If they're trying to cobble together an established pecking order, though, there's a few impact names they could target.
Both George Hill and Kemba Walker initially spring to mind here. Neither team, however, has committed to a full rebuild. Both, in fact, traveled great lengths to stave off one this offseason. The Suns can try selling the Hornets on their ability to take back a bad deal in addition to Walker, but again, that only helps if Charlotte is looking to start over.
Patrick Beverley could be a name to watch. Or maybe Milos Teodosic. The Los Angeles Clippers are overrun with guards and could be willing to do a Dragan Bender-for-floor general swap or Beverley-and-Wesley-Johnson for Tyson Chandler trade.