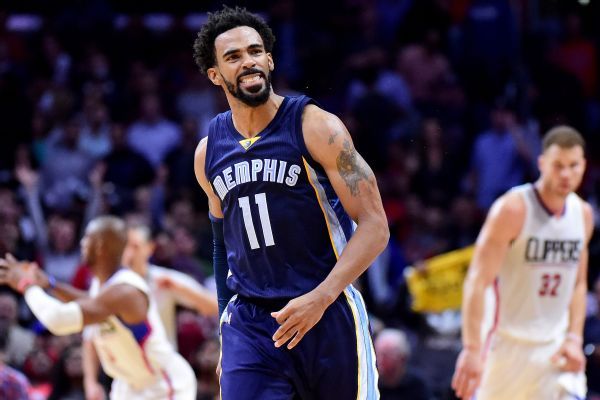 Mike Conley missed 70 games last season while dealing with Achilles issues. On the verge of turning 31, with three years left on his max contract, it's fair to wonder whether the Memphis Grizzlies should have any long-term concerns.
Conley, for his part, does not. He expects to be ready by the time Memphis opens training camp. As he told Yahoo Sports' Michael Lee:
"We're doing the right things. Taking things slow. And giving me time to really be ready to go for training camp. Mentally, I'm there. I'm ready. Physically, I feel good. It's just my body has to catch up," Conley told Yahoo Sports. "Being a dad, being low-key out of the way, it gave me a perspective like, 'Hey. This is great, I get to spend time with my kids, even though this is a down part of my career.' But also at the same time, I've got a new re-tooled drive. … Knowing that I took care of the issue, we got the issue figured out, hopefully, going forward, I won't have any flare-ups. I can just play basketball like I'm used to playing and I've got a free year, another year, added to my career, so I'm excited."
The Grizzlies can only hope Conley is ready to rock for an entire season. They don't really have a face-up playmaker without him. Marc Gasol operates more so out of the post. Jaren Jackson Jr. might get there one day, but not as a primary floor general. Kyle Anderson can run some secondary pick-and-roll stuff.  Ditto for MarShon Brooks. Andrew Harrison and, now, Shelvin Mack are the Grizzlies' two best options at point guard after Conley—and that's not saying much.
Memphis doubled down on its core this past summer by staving off a rebuild and adding Anderson. Conley's post-injury trajectory will be the deciding factor in whether this gamble ultimately pays off.