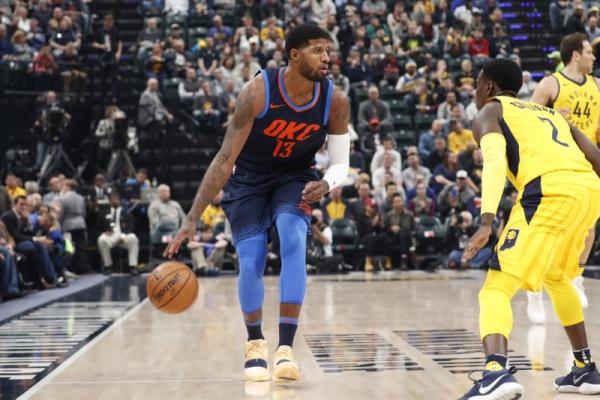 The Los Angeles Lakers were apparently ticked off that Paul George didn't grant them a meeting in free agency—and this revelation comes from PG13 himself.
Speaking Chris Pfaff's Short Story Long podcast, George indicated that Lakers president Magic Johnson and Co. were not especially pleased with him rejoining the Oklahoma City Thunder before giving them face-time (h/t The Score's Chris Walder):
"L.A. was pissed at me. I didn't give Magic (Johnson) a (meeting), which I understand," George said during a recent appearance on the "Short Story Long" podcast with Chris Pfaff. But at that point, I knew I wanted to give it another shot. I didn't want to prolong it and waste people's time." . . .

"My year there, I just felt comfortable," George told Pfaff about his first season in OKC following a trade from the Indiana Pacers. "I felt like I've been around those guys forever. That was just the feel. It didn't feel like this was a new relationship. It felt like these are guys that I want to compete with.

"Coming down to free agency, I didn't want to waste any time. I wanted to give it another shot. I gave them one year. We played well against the best teams. I wanted to give it a real shot."
It's understandable that the Lakers would be angry. George committed to the Thunder before LeBron James announced his move to Los Angeles. Johnson might have thought his arrival still hinged upon landing another star at that time.
Still, it seems like the Lakers might have known James was coming no matter what, in which case they just wanted to drum up their collection of superstars. If LeBron's free-agency intentions really were the worst-kept secret in the NBA, George's decision to re-sign in Oklahoma City might say more about the former's lack of pull among some of his peers.
Or it might just mean we need to take PG at his word: He enjoyed his time with the Thunder and wanted to give his partnership with Russell Westbrook a real chance to blossom.