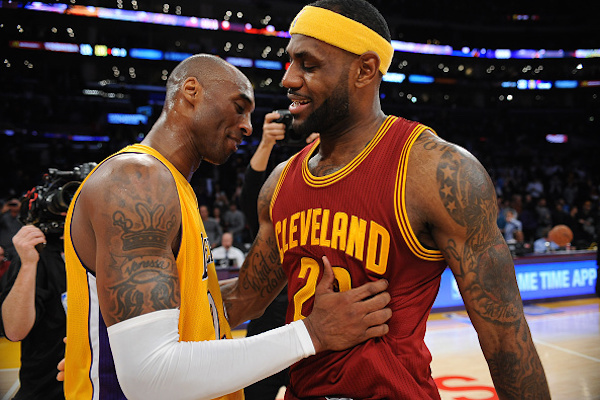 Kobe Bryant has a message for all the Los Angeles Lakers fans who are not rolling out the red carpet for LeBron James' arrival: You're kidding yourselves if you think this distaste for the three-time champ will last.
Speaking on the The Rich Eisen Show, the Lakers legend didn't so much as call for fans to welcome LeBron. He simply stated their eventual support as an unassailable fact (h/t ESPN.com's Ohm Youngmisuk):
I hear that," Bryant said when asked on "The Rich Eisen Show" whether he is aware that some of his fans have an issue with James being a part of the Lakers family. "But listen, if you are fan of mine, you are a fan of winning, you are a fan of the Lakers. I bleed purple and gold. So, that is above anything else.

"I have been a Lakers fan since I was yay high. That is never going to change. Right? [It] is about winning championships. So, they'll fall in line."
Kobe is not wrong. But his premise is made all the more difficult by the Western Conference landscape.
LeBron will be able to endear himself to Lakers fans everywhere should he win a title. But, like, will he do that? Will he even make another NBA Finals? Neither Kobe nor LeBron himself can nor anyone else can say. The Golden State Warrior aren't going anywhere anytime soon, even if Kevin Durant does. Other superpowers, such as the Denver Nuggets and Utah Jazz, are on the rise.
The Lakers, meanwhile, are at least another star away from registering on the championship radar, and they're probably not even that close. At the very least, they're punting on this season to play a longer game built around in-house development and next summer's cap space. That's fine. It also means their official LeBron-led title window may not open until he's entering his Age 35 or Age 36 season.