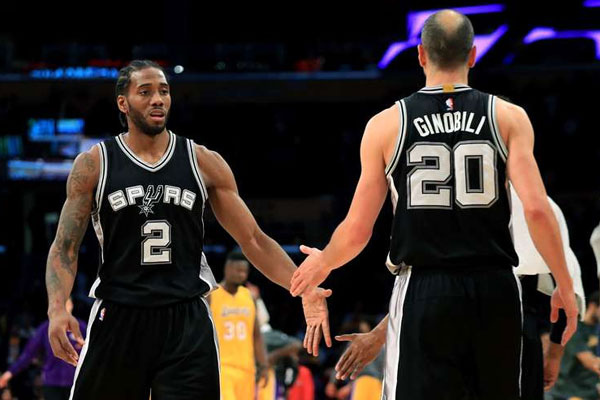 What will the San Antonio Spurs do with Kawhi Leonard?
Nobody seems to know.
Sure, certain rumors and reports have speculated to the contrary. A vast majority of NBA people and fans seem to think the Spurs will ultimately bite the bullet and move him. But no one really, truthfully, actually knows. That's been the prevailing sentiment coming out of the NBA's Las Vegas Summer League, according to The Undefeated's Justin Tinsley:
By far the most glaring question mark hovers above superstar San Antonio Spurs forward Kawhi Leonard. Quite literally no one knows (or will even whisper) what will happen with the former Finals MVP. But Kawhi is the talk in the casinos. He's the talk on The Strip. He's the talk throughout the Thomas & Mack.

"It's weird, right? Where do you think he goes?" asks a Western Conference executive. He never expected the Spurs to be in a position in which the face of the franchise wants out. "You gotta expect that he's gone sooner than later. You don't want that dragging into the season. And for someone like Kawhi, you absolutely have to get something in return. … It's like the entire league is just waiting on the shoe to drop."
The Los Angeles Lakers, Philadelphia 76ers, Los Angeles Clippers and Boston Celtics have remained the most talked about potential landing spots throughout this entire process. If you ask me, though, we're not spending nearly enough time talking about the Spurs.
Keeping Leonard is not out of the question. His trade value has essentially never been lower. He's working his way back from a quad injury that limited him to just nine games last season, and he's going to be owed a max payday in 2019. Teams don't typically mortgage the farm for expiring contracts, even if they wind up landing what should be a top-five player.
Maybe the Spurs hash out their problems with Leonard. That remains possible—especially after Tony Parker, the source of Leonard's ire to some extent, signed with the Charlotte Hornets. Or maybe the Spurs will simply hold onto Leonard and try to rehabilitate his on-court value and drum up better offers in the middle of next season. Either way, don't presume a quick resolution to this soap opera. It might not be coming.