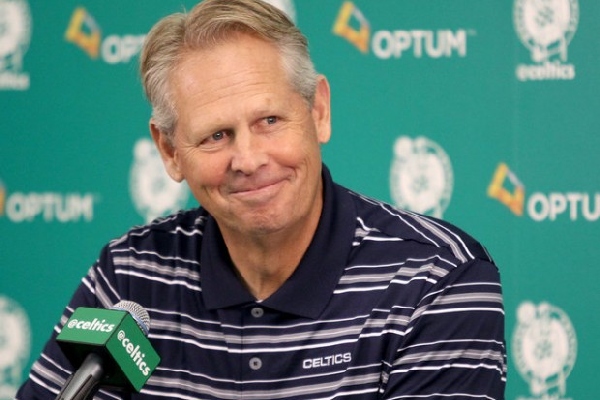 It never quite seemed like the Boston Celtics were totally in the Kawhi Leonard sweepstakes. But it turns out they might have been. At the very least, they were more in than perhaps initially advertised.
Speaking with ESPN.com's Michael C. Wright on the most recent episode of The Lowe Post podcast, here's what Zach Lowe had to say on the matter (h/t RealGM):
"Rebuilding was just not going to be an option there," said Zach Lowe on his podcast. "They want to remain 'relevant', I think is the word that has been used. They want to remain in the playoff race. They just weren't going to consider offers that were heavy on draft picks and young players.

"And by the way, as all the reporting from this sort of trickled in, I think the Celtics offered most of their best draft picks. I don't think the Celtics just offered (and said) 'You could have a bunch of our picks.' I think some of the picks they're owed, at least two of the picks, if not all of them that they own from other teams, including the Kings, Grizzlies and Clippers. I think those were all in the deal.

"And the Spurs were like 'Nah, we don't want that.'"
This seems to align with everything that came out about the Celtics during the process. Their offers were not rooted in current players, but rather, their lucrative stash of draft selections—including, it seems, next year's unprotected Sacramento Kings' first-rounder.
Here's the problem with that, though: The Celtics needed to send out current assets if they were going to land Leonard. They didn't have cap space. They would have needed to meet the typical salary requirements. They didn't have the salary-matching fodder without including Kyrie Irving, Gordon Hayward, Jaylen Brown, Jayson Tatum or Al Horford. They would have needed to cobble together a 7-for-1 package or brokered a Marcus Smart sign-and-trade.
Never mind that the Spurs apparently didn't want to rebuild. Unless they were baking in one of their five best players, the Celtics were never going to land Leonard.