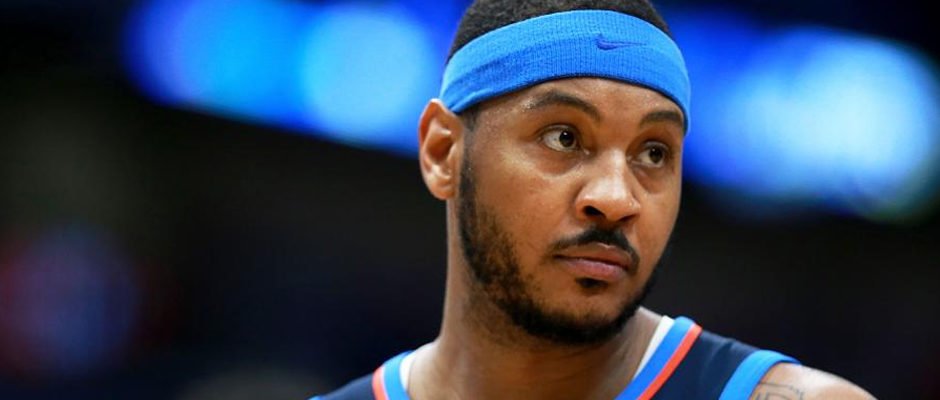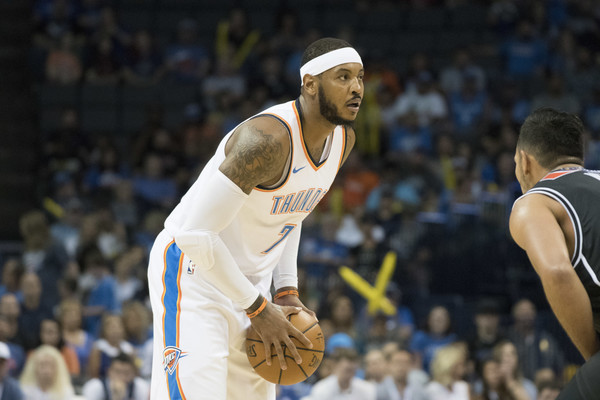 Carmelo Anthony's departure from the Oklahoma City Thunder has never felt more inevitable.
In the face of buyout talks and trade negotiations, the 34-year-old forward has been granted permission to speak with the Houston Rockets and Miami Heat about joining their roster once his future in Oklahoma City is resolved. Here's the lowdown, according to ESPN.com's Adrian Wojnarowski:
In advance of an inevitable — if not imminent — parting, the Oklahoma City Thunder granted Carmelo Anthony permission to meet with prospective teams, including the Houston Rockets and Miami Heat, league sources told ESPN.

Carmelo and his representatives met with Rockets and Heat officials at the site of the NBA Summer League in recent days, league sources told ESPN. . .

The Rockets meeting included coach Mike D'Antoni, who had a turbulent relationship with Anthony as New York Knicks coach. D'Antoni made it clear to Anthony that he thinks the circumstances together would be far different in Houston, and welcomed the idea of coaching Anthony again, league sources said.
If Anthony really has narrowed down his choices to the Rockets and Heat, he should roll with the former. Miami might have more touches to go around, but Houston is closer to contending for a title. Plus, head coach Mike D'Antoni is now intimately familiar with juggling multiple ball-dominant talents. He and his staff expertly staggered the minutes of James Harden and Chris Paul last season. Weaving in Anthony is akin to working in LeBron James, the player they once wanted, albeit on a much smaller scale.
It also feels like Anthony will be more open to tinkering with his role alongside Paul, one of his good friends. There's always the chance the Rockets figure out how to keep him involved as a roll man and cutter as well.
Before Melo chooses his next destination, though, he must first get out of Oklahoma City. Right now, it appears that'll happen by way of a buyout. But, as Woj noted, he has waived his no-trade clause in an effort to potentially expedite the process. So, anything could happen next.