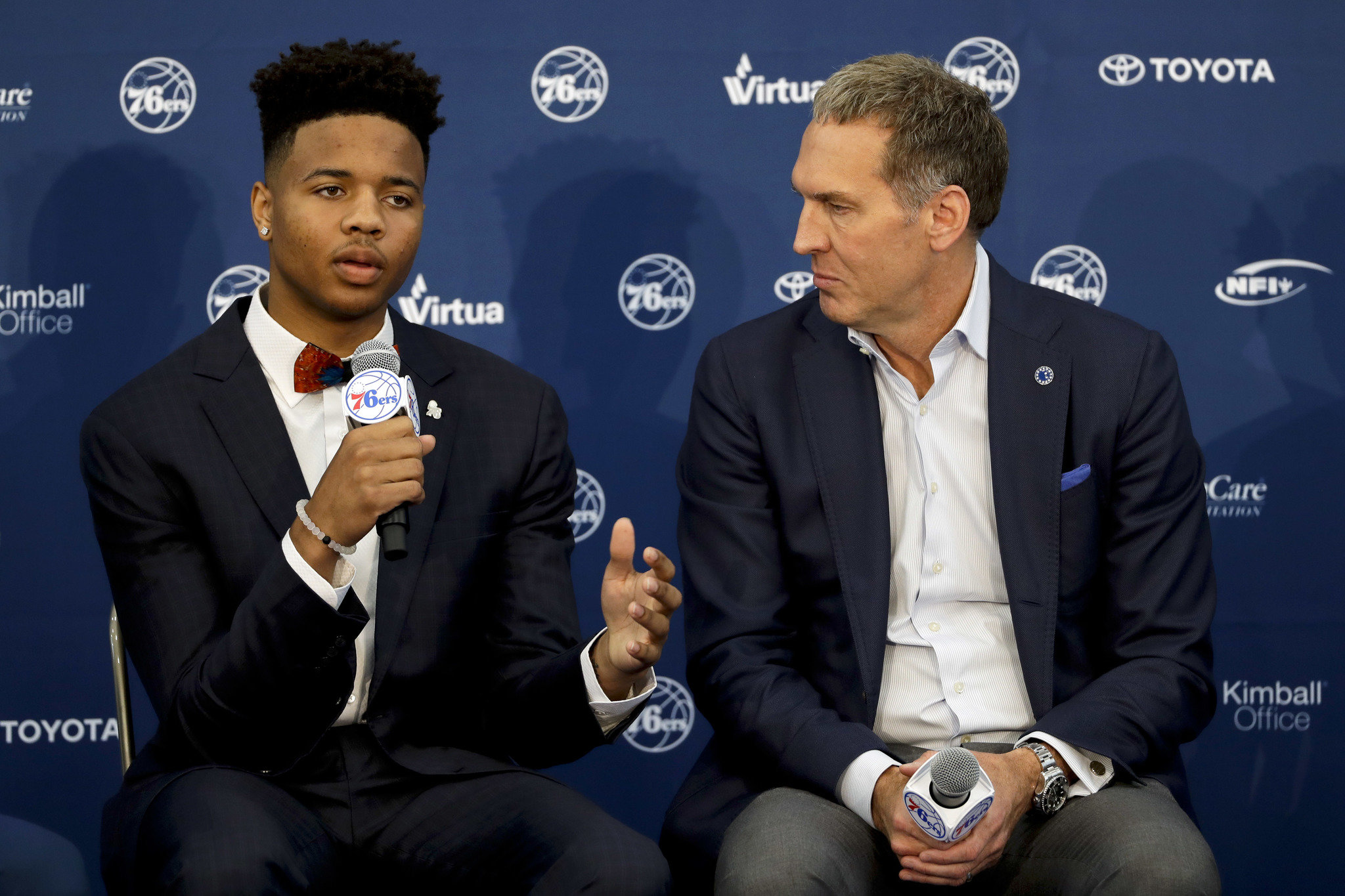 It's starting to seem like Bryan Colangelo has no hope of keeping his job with the Philadelphia 76ers.
On the heels of an explosive report from The Ringer's Ben Detrick, the team commissioned an outside firm to investigate claims that its franchise president used a handful of burner accounts to execute self-serving agendas that included lampooning Sixers players, former general manager Sam Hinkie and even Toronto Raptors president Masai Ujiri. Said accounts also seemed to have inside information on Jahlil Okafor's health, in addition to a scuttled trade involving the big man.
I know, I know: This is all very 2018. But, if true, this represents a staunch breach of confidentiality and, let's face it, morality. No one quite knows who was behind these accounts, but the prevailing assumption is it was Colangelo or someone close to him. Recent attention has been paid to his wife, Barbara Bottini.
Perhaps the full truth will come out at some point. But it may not matter. According to ESPN.com's Adrian Wojnarowski and Zach Lowe, the team appears increasingly likely to give Colangelo the boot in light of all this:
As a Philadelphia 76ers internal probe into anonymous Twitter accounts has become increasingly focused on the wife of president of basketball operations Bryan Colangelo, franchise ownership is seriously considering Colangelo's dismissal, league sources told ESPN.

The probe hasn't been completed, and a final decision has yet to be rendered, but the fallout from a report by The Ringer that connected Twitter accounts unleashing privileged information and provocative attacks surrounding the Sixers has left ownership flushed with embarrassment and anger — and Colangelo fighting for his professional life, league sources said.

Colangelo, a two-time past NBA Executive of the Year, has discussed with ownership and upper management the possibility that his wife, Barbara Bottini, may have been involved in the postings of the tweets from so-called burner accounts, league sources said.
It's tough to know what to make of all this. If Colangelo is behind these burners, he absolutely needs to go. But it would be a shame to destroy him, to fire him, only to find out later he genuinely had no idea what was going on. At the same time, it's also hard to believe that someone so close to him, such as Barbara, could carry out this burner-account soap opera without him having any knowledge of it whatsoever.
Hence the Sixers' dilemma, until—or rather, unless—they get to the definitive heart of the matter. In the meantime, though, the longer Colangelo goes without being absolved, the more likely he is to get the ax. Every day that passes is another in which the Sixers' image takes a hit in advance of a pivotal offseason.