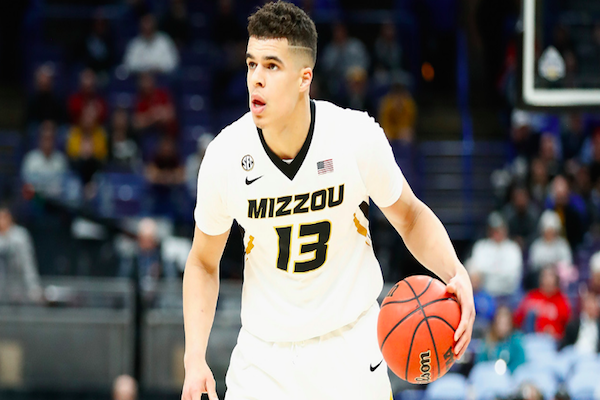 Back problems essentially ruined Michael Porter Jr.'s season with Missouri. He went from being a near-consensus top-two pick to falling outside the first five altogether. Enter the Sacramento Kings.
According to USA Today's Sam Amick, the Kings, ever a wild card, are weighing the option of selecting Porter with the No. 2 pick in June 21's draft:
There's a very real chance the Kings would take Michael Porter Jr. at No. 2, but it's unclear how the canceling of the Friday workout in Chicago might impact the process. They want more intel on medical and another look. Teams are being told that the workout will be rescheduled.

Kings appear to be pondering Porter Jr., Doncic and Bagley more than the rest, with the assumption that Phoenix takes Ayton No. 1
The Kings' interest in Porter is not ludicrous. They don't have a combo forward with his ceiling. His best position might be the 4, but he can play plenty of 3. Plus, Skal Labissier hasn't come along quickly enough at power forward to justify passing on a high-end prospect who cannibalizes some of his minutes.
Still, taking Porter at No. 2 profiles as a potential mistake. Maybe he pans out as a worthy choice down the line. That's not the point. He's tumbled outside the top five in most mock drafts. Some even have him going around the No. 7 or No. 8 areas. If the Kings want him, they should be trying to trade down.
Convince the Memphis Grizzlies, at No. 4, they'll take Luka Doncic if left at No. 2. Or convince the Dallas Mavericks, at No. 4, that the Grizzlies are going to take Doncic and the Atlanta Hawks, at No. 3, are going to roll with Mohamed Bamba; that might lead them to offering something, anything, in exchange for moving up.
Basically, the Kings should not be gambling on Porter without trading down. Unless they have airtight intel the Hawks or Grizzlies view him as their first-choice option, their apparent interest in MPJ equips them to both get their top guy while adding another asset.