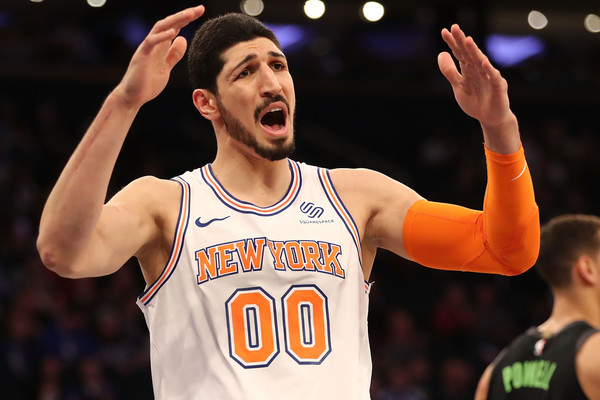 Big news: Enes Kanter has no plans to throw away $18.6 million.
After publicly waffling on whether he was going to exercise his player option for next season, it seems the New York Knicks big man is now leaning toward playing out the final year of his deal, according to ESPN.com's Ian Begley:
Enes Kanter is leaning heavily toward opting in to his $18.6 million player option for 2018-19, per ESPN sources. Kanter will continue to survey the market until his Friday deadline but, barring an unforeseen significant change in the market, he will opt-in, per ESPN sources.

— Ian Begley (@IanBegley) June 28, 2018
This is…the most predictable thing ever.
Around half of the NBA will need to futz and fiddle with their books to avoid paying the luxury tax. Of the seven to nine teams that have or can carve out appreciable cap space, only a couple of them will actually be looking to spend that money. And of those few squads, hardly any of them will be looking to invest in a big.
If Kanter opts out, then, he's probably looking at non-taxpayer's mid-level exception offers that pay him $8.6 million next year. A four-year deal at that price point might appeal to him, since it guarantees him more money over a longer-term, but the difference isn't nearly significant enough. There's no guarantee he even gets offers worth the full mid-level exception.
Rolling the dice into next year is the smarter play for him. More teams are projected to have space, and the salary cap, as of now, is expected to increase by 6.9 percent, to $108 million, compared to the 1.9 percent jump this year.
Worst-case scenario, even if the market is again laid bare, Kanter is still looking at the same offers he would net this year. He will only be 27 by this time next year and should have no trouble securing a multiyear commitment worth at least the taxpayer's mid-level exception.
Basically, opting in ensures he will get one more year at above-market money without hurting his long-term stock. And in the league's current salary-cap climate, that qualifies as a big-time win.