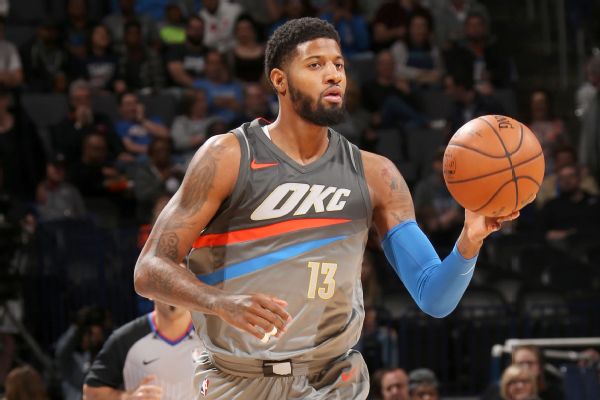 Though the Houston Rockets have been mentioned as contenders in this summer's LeBron James sweepstakes, he's not the only superstar for which they have eyes. Add Paul George to their list.
From Rockets Wire's Kelly Iko:
In addition to the Rockets' longstanding interest in free agent-to-be LeBron James, another noteworthy longtime target of general manager Daryl Morey is Paul George, two league sources told Rockets Wire.

Immediately after agreeing on a deal to bring Chris Paul to Houston last June, Morey was reportedly aggressive in the pursuit of George, then with the Indiana Pacers.  Ultimately, George was traded to the Oklahoma City Thunder to combine with Russell Westbrook and Carmelo Anthony. Many had that trio pegged for Western Conference greatness, but the Thunder won 46 games and lost in the first round of the playoffs to the Utah Jazz. With the offseason approaching, the Rockets will once again be aggressive in free agency, targeting James or George, both sources said.
Believe it or not, the Rockets would have an easier time landing LeBron than they would PG13.
Even if they replace everyone on their roster other than James Harden, Chris Paul and Clint Capela with minimum contracts, they still fall short of max cap space. Carrying Paul's and Capela's free-agent holds, in addition to Harden's salary, brings them to more than $81 million in commitments after factoring in empty-roster chargers. That, in turn, leaves them with around $20 million in spending power (really, a little less)—or $10.3 million short of George's max.
While that also puts the Rockets $15.4 million below LeBron's max, they have a better chance of convincing him to pick up his player option. He'll actually make more next season that way than by signing a new deal in free agency. George, on the other hand, won't. His player option is worth $20.7 million—almost $10 million less than he's eligible to make.
Brokering a sign-and-trade is always in play, but the Rockets would 1) have to make sure they the deal is worthwhile for the Oklahoma City Thunder and 2) be held to the hard cap immediately thereafter. Satisfying both requirements will be tough. Staging an opt-in-and-trade for LeBron would be as well. It's just a helluva lot easier compared to the PG13 scenario unless CP3 is willing to take a demonstrative pay cut and the Rockets find a new home for the final two years left on Ryan Anderson's deal.