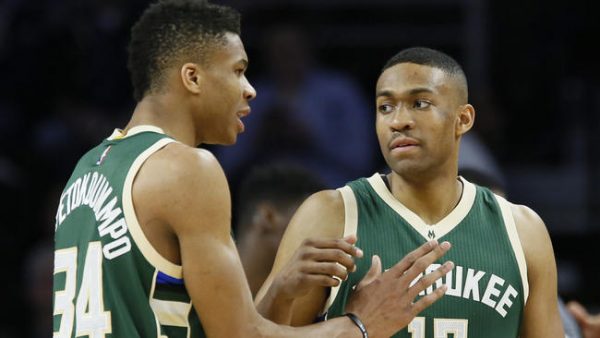 The Bucks have some decisions to make this summer as they try and find the right path to take in order to build a contender around their 23-year-old superstar, Giannis Antetokounmpo.
The biggest decision they will have is whether or not to bring back former No. 2 pick and oft-injured forward Jabari Parker, and how much they are willing to offer him if they do want to retain him.
There is a growing feeling that the Bucks will opt to save the money they would pay Parker and try to allow themselves more flexibility to try and improve their roster.
The Greek Freak has different thoughts though.
Here is what he told Matt Velazquez of the Milwaukee Journal Sentinel:
"Jabari ain't going nowhere," Bucks all-star Giannis Antetokounmpo said. "He's going to be here and he's going to be ready for next season. And we will be all excited and playing in the new arena. And everyone is going to be having fun."
That is a very positive, pie in the sky view of the situation, but there are real concerns with paying a guy with two ACL injuries in his first four seasons major money and how he fits with the current Bucks team as a guy still developing his three-point jump shot (a must around Giannis) and being a below average defender.
While it won't capture the imagination of the sports fan like LeBron's decision, Paul George's decision or whether Kawhi Leonard is dealt, it will be one of the more interesting story lines in what should be another crazy NBA off-season.