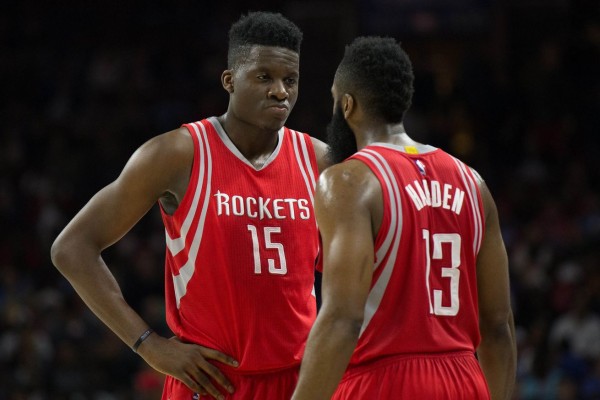 Clint Capela is not Dwight Howard. James Harden actually likes him.
What, was I just supposed to not swing at that low-hanging fruit?
Seriously, though, Harden has a special affinity for his man in the middle. And it predates the Houston Rockets' rise to NBA superpower.
Consider what general manager Daryl Morey and Capela himself said, per ESPN.com's Tim MacMahon:
"James is very smart," said Rockets general manager Daryl Morey, who has turned over the entire roster with the exception of Harden, Capela and glue guy Trevor Ariza in the past two years.

"[Harden] saw the potential — [Capela's] ability to get off the ground quick, his ability to apply what he learned quick, his ability to finish around the rim, all that. I think James saw that early and really helped develop that."

Harden privately lobbied for Capela to get more playing time in 2015-16. While that was evidence of Harden's frustration with Howard, whose insistence on post touches bogged down the Rockets' offense, it was also a strong vote of confidence in Capela. . . .

"He was telling me that he liked to play with me," Capela told ESPN. "He liked that I was always putting in energy. We were struggling that season, but I was always doing the good stuff. It makes me feel good that a player like him believed in me at first. I was a young player surrounded by veterans. It made me feel good that the main guy believed in me."
Basketball fit probably has a lot to do with this relationship, at least when comparing it to the failed marriage between Harden and Howard. Capela doesn't command post touches or plays drawn specifically up for him. Head coach Mike D'Antoni has said on multiple occasions he appreciates the 23-year-old's willingness to set screens, roll towards the rim, secure put-backs, crash the defensive glass and protect the paint.
That sounds like a lot of responsibility, because it is. But others would get bogged with the number of from-scratch touches they're not getting. Egos come into play. That doesn't seem to be an issue with Capela. It helps that bigs from Howard's era were, at one time, used to being featured commodities. But there's something to be said for someone like Capela, even when the blueprint for surviving and thriving in this league has changed for towers like himself. He knows his role, and he owns it, and he's not obsessed with deviating from it.