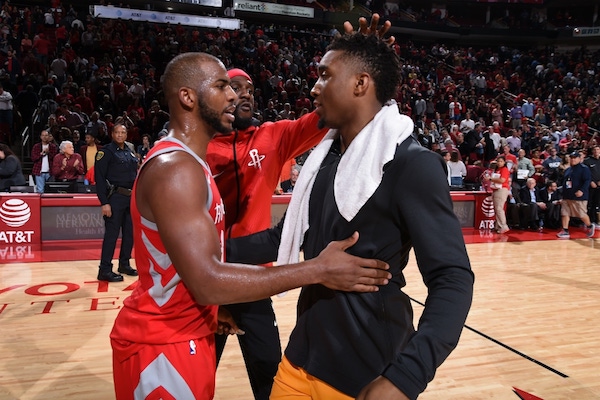 Chris Paul's friendship with Donovan Mitchell is for real—unless, of course, his Houston Rockets are facing the rookie's Utah Jazz in the NBA playoffs. Which they are. They hold a 1-0 series league over them, in fact.
So when Mitchell and the Jazz dispatched the Oklahoma City Thunder in six games during the first round, Paul had to toe a delicate line—that of a friend and foe. And he did so expertly, both offering Michell congratulations while enacting the totally necessary silent treatment.
Here are the details, per the Deseret News' Eric Woodyard:
As Donovan Mitchell celebrated, a text message popped up on his phone immediately following Utah's closeout win against the Oklahoma City Thunder.

"Congrats, talk to you after the series," Chris Paul sent him late Friday. . . .

Sidelining that relationship for the postseason is part of the job.

"Easy," Paul explained during the postgame press conference. "For real, like I mean these guys (James Harden and P.J. Tucker) got guys probably on other teams that they're close with and stuff like that."
Mitchell and Paul's relationship is no secret around the league or among fans and pundits. It's been very well-documented. It's also not entirely unique. This isn't the 1990s or earlier. Paul is a maniacal competitor, but he isn't Kobe Bryant.
Today's players are, by and large, friendly with one another. The game has more camaraderie to it. There will always be those who won't acknowledge your existence if you don't play with them—Russell Westbrook, probably—but balancing friendships with the heat of competition is just part of the gig in this era.
Fear not, though, young Donovan. Paul will totally be on speaking terms with you again soon. After all, the Rockets have only three more wins to rattle off before you two are no longer, officially, opponents.