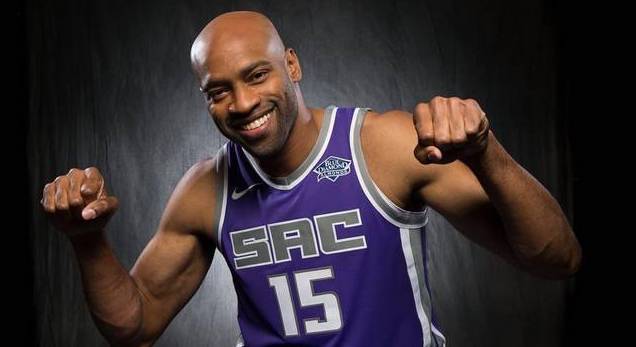 Vince Carter will not be playing his final game when the Kings end their season at home against the Rockets on Wednesday night.
Carter told ESPN and The Undefeated's Marc Spears that he plans on playing a remarkable 21st season.
"I plan on coming back next season," Carter told Spears. "I plan on coming back one more season."

"I just think that after next season it is time," he continued. "It's been great … maybe two more years. But, you know, in my mind, I think it's time for one more."
Carter, 41, has shown the sort of humility, grace and willingness to alter his game and take a reduced role in order to elongate his hall of fame caliber career. That is something not a lot of former superstars are willing to do (see: Allen Iverson).
Carter signed a one-year, $8 million contract with the Kings this past summer which means he will be a free agent once again and will hopefully catch on with a team that is near the top of the NBA standings instead of the bottom.
He has averaged 5.3 points, 2.5 rebounds and 1.2 assists on 39% shooting in 57 appearances for the Kings this season and likely has had a positive effect on the Kings young roster and players like DeAaron Fox and Bogdan Bogdanovic.
Carter will join Robert Parrish, Kevin Garnett and fellow current star and member of the 1998 NBA Draft class, Dirk Nowitzki, as the only players in NBA history to play 21 seasons.
Can we see Vince Carter back in a Raptors uniform for one more season? Especially rocking their mid-90s cartoonish Dinosaur pinstripe jerseys that was all the rage in that era.
I doubt anyone ever thought Vince Carter would be the sort of player to play well into his 40s, but here we are. Maybe we even have a Vinsanity highlight moment or two left on the horizon.