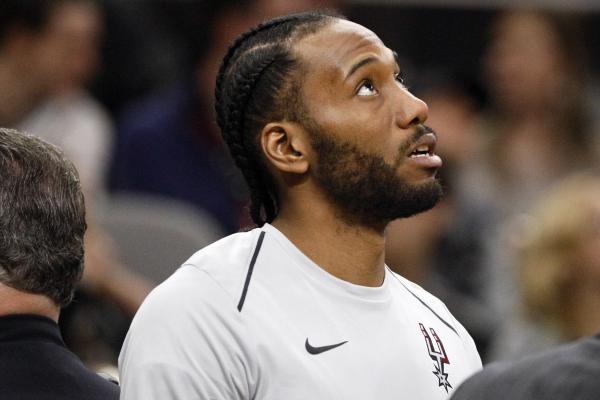 If the San Antonio Spurs' closed-door hints are to be taken seriously, Kawhi Leonard isn't going anywhere.
The two-time Defensive Player of the Year has been noticeably absent from the sidelines during the Spurs' first two games, both losses, against the Golden State Warriors. Coupled with everything else that's happened this year, including seemingly veiled shots lobbed his way via head coach Gregg Popovich, Manu Ginobili and Tony Parker, some are interpreting this as further evidence these two sides may not be long for each.
That's not what the New York Time's Marc Stein is hearing, though. Here's the latest scuttlebutt from his most recent mailbag:
One well-placed insider who has closely monitored this situation told me recently that the Spurs continue to give off signals behind the scenes that they won't trade Leonard. I'm sure they want Leonard to believe that, but this saga has reached the point that a trade has to be considered no less likely than the prospect of a Pop/Kawhi summit that leads to a detente.

Are the Spurs really prepared to maintain the status quo and enter the coming season with Leonard in the final year of his contract before hitting free agency in July 2019? Are the Spurs really going to offer him the  "supermax" contract extension worth in excess of $200 million that Leonard is eligible to receive after July 1 when the relationship between player and organization is so contentious?

It's getting easier by the day to envision a trade in June or July before San Antonio goes down either one of those roads.
That designated player extension figures to be a huge determining factor in this process. If the Spurs are confident Leonard is healthy, they offer it and he signs it, the problem is solved. If they offer it and he doesn't put pen to paper, it'll validate a lot of the speculation emanating out of San Antonio. If they don't offer it at all, for whatever reason, it could prompt him to request a trade himself.
Almost needless to say, it's going to be an interesting, potentially franchise-altering summer in San Antonio.