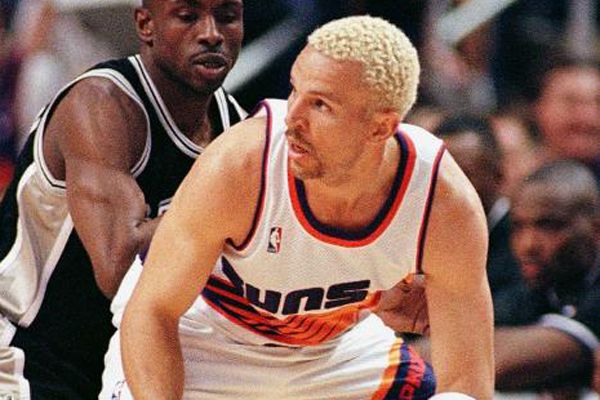 Anyone clamoring for the Phoenix Suns to speak with Jason Kidd about their head coaching vacancy has officially received their wish.
The same goes for anyone who wanted Vinny Del Negro to get some face time, too. (Props to someone if they actually belong to this group.)
After cycling through some of the top candidates, and following a brief dalliance with Atlanta Hawks head coach Mike Budenholzer, the Suns have apparently talked to both Kidd and Del Negro, per Scott Bordow of AZCentral.com:
Breaking news: Suns have spoke to Jason Kidd and Vinny Del Negro about their coaching job.

— scott bordow (@sbordow) April 23, 2018
Before you freak out, Mr. Bordow would like you to know that he knows you're going to freak out, and he crafted a tweet specifically for said potential freak-outs:
Everyone going nuts about my Jason Kidd, Vinny Del Negro news: Chill. McDonough told me in March he would talk to a lot of people in initial round of interviews. Then will whittle list down. Doesn't hurt to get a lot of input, opinions, about your team and organization.

— scott bordow (@sbordow) April 23, 2018
This is a good take. The seriousness with the discussion of either candidate is unclear, and the Suns don't have to hire either of them. They could just be doing those guys a solid by granting a meeting. Or they could, as Bordow puts it, simply be looking for all available feedback about their organization, and how it's run, from the outside.
Let's also not forget the Suns were criticized for authoring a lackluster coaching search before they hired Earl Watson last time around. Interim head coach Jay Triano is expected to receive consideration for this gig through the interview process, but Phoenix won't want a repeat of last time. Even if it has a preferred candidate, and even if that candidate isn't Triano, the front office will want to give off the appearance of exhausting its due diligence. This way, no matter who the Suns hire, they're more likely to win the introductory press conference.
Of course, actually choosing Kidd, who spent more than four seasons playing for Phoenix, or VDN wouldn't make their life too easy. Kidd has been lampooned for his demeanor and approach following stints with the Brooklyn Nets and Milwaukee Bucks, while VDN has a blase reputation and isn't known for his player development.