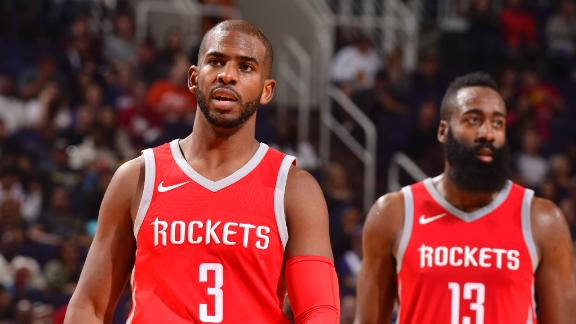 Maybe the biggest blockbuster trade that occurred this summer (they were a few) was the Clippers trading Chris Paul to the Rockets for Lou Williams, Patrick Beverley, Montrezl Harrell and Sam Dekker.
Paul had been the heart, soul and leader of the Clippers franchise for six seasons, but things have gone even better than the Rockets could even expect with him and James Harden sharing a back court thus far this season, as the Rockets are 64-15 and have the best record in the NBA.
Regardless of the situation, moving from one city to another to start a new job essentially is a big deal for anyone, especially after they have been somewhere for six years, as Paul admits in this excerpt from a Sarah Berger piece on CNBC:
"The day after he was traded to Houston, Paul had a photo shoot that he struggled to get through.

"Everyone always thinks us athletes, we've always got it together. That's a lie," Paul tells CNBC Make It. "I was throwing up at the photo shoot.

"I was out there taking pictures," Paul continues, "and I was like, 'Give me a second.' Boom. I ran out, threw up. Boom. Came back and acted like I had just taken a phone call. [It was] just the anxiety of knowing that there was a change that was coming."

Paul admits he was scared. "I had been living in L.A. for the past six years. The decision that I made was not only going to affect me, but my family, my kids, everybody around me. It was a big decision.

"Who would have known it's been one of the best things of my life."
It is interesting to get a view into the mind of an NBA superstar and future NBA hall of famer. You forget that they are people like anyone else with nerves about a new situation.
Paul looks poised to make his first conference finals and maybe even first NBA Finals this season. I think being traded to Houston was a good move.