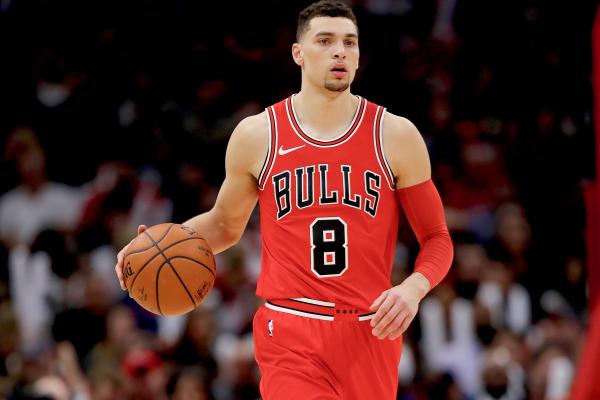 If Zach LaVine has his way, you'll see him take the court again this season.
Less than 25 games into his return from a torn left ACL, the 23-year-old finds himself back on the shelf again, this time with knee tendinitis. He has missed the Chicago Bulls' last two games, both losses, and while he's participated in limited portions of their practices, they still don't have a timetable for his return.
LaVine is hoping a timetable comes soon. He's also hoping said trajectory allows him to play again this year, per the Chicago Tribune's K.C. Johnson:
LaVine, who practiced in at least the non-contact portions Tuesday, admitted the decision isn't only his.

"I think it might be collective," LaVine said, chuckling. "I hope it is at least."

That's because, lost season or not, LaVine wants to play.

"There are still some games to get in a rhythm before getting into the offseason and working out," LaVine said. "I always want to hoop."

Coach Fred Hoiberg agreed with LaVine's desire to play, reiterating there's value despite the team's record.

"If he feels good, we want him back," Hoiberg said. "If there is any concern at all, we'll take the cautious approach and continue with the plan as it is."
Some will see the Bulls holding out LaVine as a tanking precaution. That could be true. But they've actually been worse with him on the floor since his return. They're getting blasted by 13.2 points per 100 possessions with him in the game overall, and they're a minus-15.6 through his last eight appearances, according to NBA.com.
Any time LaVine misses from hereon—he's already been deemed a no-go for their upcoming game against the Denver Nuggets—likely has more to do with the Bulls being extra cautious. LaVine is a restricted free agent this summer, and Chicago has a lot riding on his future. He remains one of the headlining pieces from the Jimmy Butler trade, and while re-investing him after getting fewer than 30 appearances from him poses a gigantic risk, it would be equally reckless for the Bulls to risk his long-term health when they're not playing to win anyway.