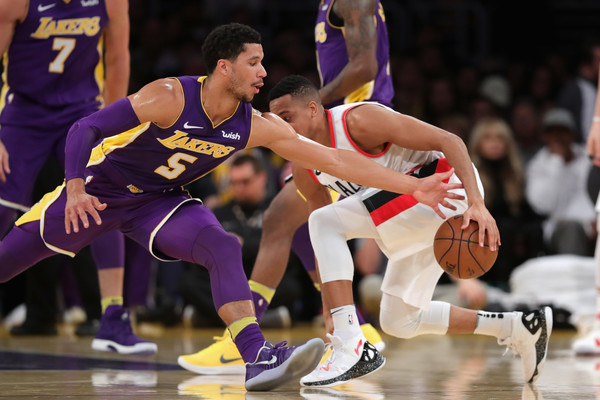 Josh Hart's standout rookie season may have just reached an abrupt end.
The 22-year-old newbie suffered a fracture in his left hand during a Los Angeles Lakers team practice on Wednesday. It's not immediately clear how much time he'll miss as a result, per ESPN.com's Ohm Youngmisuk:
Los Angeles Lakers rookie Josh Hart suffered a fractured left fourth metacarpal in practice on Wednesday.

The guard underwent X-rays after practice that revealed the injury. The Lakers said they are evaluating treatment options for the guard.

Hart, who is a right-handed shooter, suffered the injury to the ring finger on his left hand.

He will return to Los Angeles on Thursday to have his hand examined, with an update on his treatment expected to follow.
With roughly six weeks left in the regular season, Hart could end up missing most, if not all, of the Lakers' remaining games. He should technically be able to return sooner, since the fracture is on his non-shooting hand, but Los Angeles isn't playing for anything special. Risking further complications, however unlikely, is pointless—especially because Hart has burst onto the scene in a big way.
While he has a long way to go as an on-ball creator, he's already one of the Lakers' best floor-spacing options. He's canning almost 40 percent of his threes overall and places in the 90th percentile of efficiency from the corners, according to Cleaning The Glass. He's also emerged as a scrappy defender, someone who sees spot time on both guards in addition to some small forwards. Look closely, and you'll see striking similarities to the way Kentavious Caldwell-Pope plays, perhaps with a little more offensive self-control baked in.
All of which makes this a big loss for the Lakers—assuming, of course, it's an actual loss and he doesn't land back in the rotation post-haste.