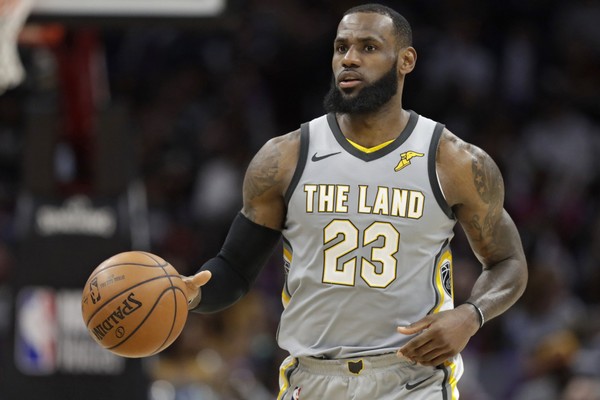 Hear that? You know, that loud, dulcet buzzing?
It's fans of the Philadelphia 76ers, Los Angeles Lakers, Houston Rockets and every other potential LeBron James suitor, humming along to the music in their ears that began playing on Sunday night, after the Cleveland Cavaliers lost their fourth game in five tries.
This latest letdown came against the Lakers, complicating matters even further. And it came on the heels of Lakers team president Magic Johnson talking with LeBron's business partners, Rich Paul and Maverick Carter, per USA Today's Sam Amick:
Lakers exec Magic Johnson taking a moment to say hello to the LeBron James team because, well, you never know: Agent Rich Paul of Klutch Sports and business manager Maverick Carter pic.twitter.com/f32ryKb5Lr

— Sam Amick (@sam_amick) March 12, 2018
Sure, they could have been discussing another one of their clients, Kentavious Caldwell-Pope, who actually plays for the Lakers. Heck, given how many times Magic and the team has been fined for tampering over the last eight months, they definitely weren't rapping about James. But every possible laid bread crumb must be seen as a clear-and-present danger to Cavaliers fans.
And that includes James' assessment of the team's future after the game, per Amick:
"Listen, at the end of the day you've got to (play with) whoever you've got out on the floor," James said afterward. "You want to get the most out of whoever's playing, but sometimes you just can't overcome this many injuries that we have."

James was then asked if it's hard to figure out if the Cavs are heading in the right direction.

"You don't know," he answered. "I mean, you don't know."
Hardly a ringing endorsement. And truthfully, LeBron cannot give one. Not yet. The Cavaliers have at times looked better since their trade-deadline overhaul, but they're still not great. They're prone to miscommunication on defense, along with a lack of effort getting back in transition and awareness guarding off the ball. They're injured, yes. They're also new. But they're just not clicking on a consistent basis, and it shows.
Cleveland has now dropped to fourth place in the Eastern Conference, behind the Indiana Pacers, as a result. And if things are not fixed over the next month, in time for it to rampage through the playoffs, you better believe we'll be left with nothing but crater-sized bread crumbs to follow towards LeBron's next exit.