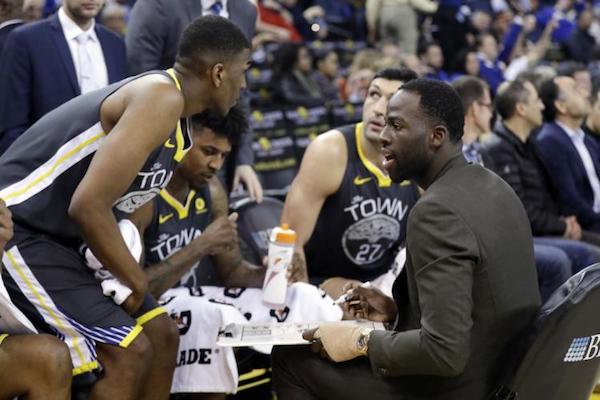 Steve Kerr decided to get creative during the Golden State Warriors' shellacking of the Phoenix Suns on Monday night.
Like, really creative.
During different timeouts, Kerr allowed three players to run the huddle, clipboard and all. Not one, not two, but three players: Draymond Green, Andre Iguodala and David West. Seriously. This happened.
From ESPN.com's Chris Haynes:
Iguodala sat in Kerr's chair breaking down the plays to his teammates while Kerr stood a few feet away with his assistants.

As the game continued, David West received a coaching nod in the huddle, as did Draymond Green, who sat out Monday's game with a sprained finger.

Green ran most of the timeout huddles throughout the game.
That's some genuine victory lap. And yet, while many could see this as the Warriors showing a lack of respect for their lame-duck opponents, the exercise was, per Haynes, premeditated by Kerr:
"I told them the other night after the last game [on Saturday] that we were going to do it," Kerr said. "It's their team. I think that's one of the first things you have to consider as a coach. It's not your team, it's not [general manager] Bob Myers' team, it's not [owner] Joe Lacob's team — although I'm not going to tell Joe that.

"It's the players' team, and they have to take ownership of it. And as coaches, our job is to nudge them in the right direction, guide them, but we don't control them. They determine their own fate and I don't feel like we focused well at all the last month, and it just seemed like the right thing to do. I thought they communicated really well together and drew up some nice plays, and it was a good night for the guys."
This is brilliant. Some people are inclined to call Kerr overrated as a head coach. LaVar Ball would be one of them. What type of work must he do to make some of the greatest basketball players of the era win together?
Aside from that being sorely mistaken, knowing when to take a step back and understanding how much leniency to give his players is part of the challenge incumbent of Kerr's job. It's not easy to keep your smattering of superstar players and hanger-on vets engaged for an entire season—not when you're working off three consecutive NBA Finals runs and chasing a fourth.
Look at what happened to the Cleveland Cavaliers. They need to rejigger their entire roster at the trade deadline to reset the culture. The Warriors have never once needed that—not to a similar degree. Yes, they're more talented than the Cavs, which allows them to sleepwalk through more games. But that doesn't diminish Kerr's body of work.
Credit the players for being smart and committed enough to play out the season and then step in as pseudo-coaches when called upon. They deserve it. They're responsible more so than any one for the Warriors' success. But also credit Kerr for having a grasp on how to balance his own impulse to coach with the innate need to let his band of stars and seasoned veterans go their own way.