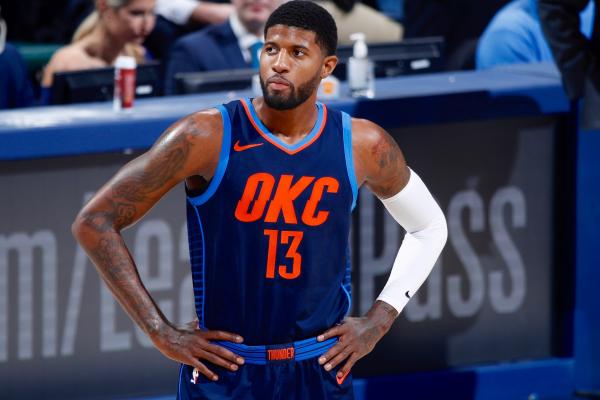 Paul George continues to sound like someone who has no intention of leaving the Oklahoma City Thunder in free agency this summer.
And he no doubt hates that we're saying that.
George's appreciation for Russell Westbrook's impassioned defense of his All-Star case—before he was named a an injury replacement—caught the eye of just about everyone. His latest comments to USA Today's Sam Amick should be no different:
"Well, I mean I'm happy here," George said. "I'm happy here. I'm happy with this group. At the end of the season, it's still on my decision on what I need to do for my family. That has nothing to do with my happiness here though. I've been really happy. It's a great organization to be a part of, but again, you know, I don't want people looking at this and (saying) like, 'Hey, because he said it's his happiness at the end of the day (that he's definitely re-signing).

"I don't know if whether I'm going to LA, or what I'm going to do this offseason. But I can say I am happy about being here. I'm happy with playing with Russ, happy with playing with Melo, and this organization. This front office has shown what they can do to go get pieces and how active they are about winning."
The soon-to-be free agent will have to forgive us in advance: We're about to read too much into this.
Why would he want to leave the Thunder now that they're clicking? Especially when, looking around the league, his alternatives aren't so hot?
Like, where would he go? Short of the San Antonio Spurs and Houston Rockets clearing the decks, there's not a truly tempting option. The Los Angeles Lakers' surrounding core is still too young, and they might be punting on 2018 free agency anyway. The Cleveland Cavaliers and Boston Celtics couldn't dredge up the cap space even if they want to. And George, to be clear, isn't joining the Golden State Warriors.
The Thunder, however, look like they have a legitimate shot at rivaling the reigning champs and anyone who stands in their way. George is playing like a Defensive Player of the Year candidate, and the Thunder as a whole match up well with the Warriors' general switchability, even in Andre Roberson's absence.
George can hedge all he wants. Keeping his options open is the diplomatic play. But the more games the Thunder play, the less likely it seems they'll be forced to soldier on without him next year.