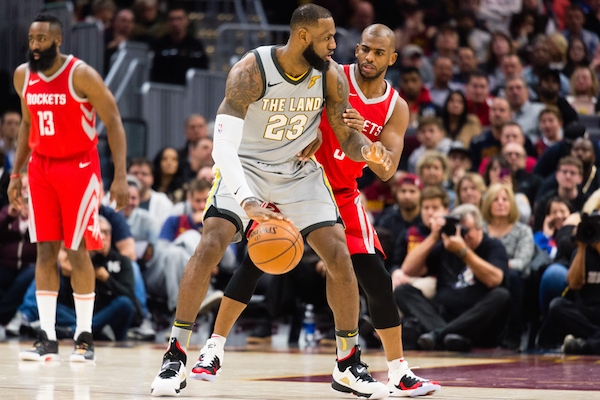 If Chris Paul were the Cleveland Cavaliers, he would trade the Brooklyn Nets' 2018 first-round pick in the name of LeBron James.
That's how it sounds, at least.
ESPN.com's Brian Windhorst penned a super interesting piece about the root of the Cavaliers' current malaise, both on and off the court. Their issues, according to him, basically boil down to a battle of wills between James and owner Dan Gilbert.
On one side, you have James, a generational talent who, by default, thrusts the Cavaliers under a microscope and into win-now mode. On the other side, you have Gilbert, who has been burned by James once and is leery of being burned by him again. He has his title, and without a long-term commitment from the four-time MVP, doesn't see an incentive to going all-in on this season—especially now.
Paul, however, disagrees. As he said, per Windhorst:
"You've got LeBron James over there in that locker room. You know what I mean? What else the man need to do?" Paul said. "Don't take it for granted, man, don't take it for granted."
This stance is an interesting one—and hardly in the minority of positions.
As many have pointed out over and over, the Cavaliers may never get their hands on another LeBron James no matter how long they wait or how astute they are in their future rebuilds. He is, arguably, the greatest player of all time. Talents like him seldom, if ever, come around. And when they do, chances are they don't play for your team.
Then again, James is working through his age 33 season. There's no telling how much longer he'll play like he is now. If you could guarantee three or four years more of this exact LeBron, then yes, dealing the Nets pick for an immediate impact return makes all the sense in the world. But you can't make that guarantee.
What's more, the Cavaliers could deal the Nets pick, and LeBron could still leave. And on top of that, it doesn't seem as if there's a trade out there worth the selection. So while Gilbert is stubborn, bordering on deluded, you can understand, to some degree, where he's coming from. Hell, maybe he's hoping the pick increases in value leading up to the draft, which would open the Cavaliers' trade options just before free agency.
Whatever Gilbert's intentions, the Cavaliers have to do something this season. They cannot hope to bust out of their current rut with the present roster. That much has become clear. But they also don't have the ammo to make a huge splash independent of the Nets pick—hence the unending precariousness of their situation.