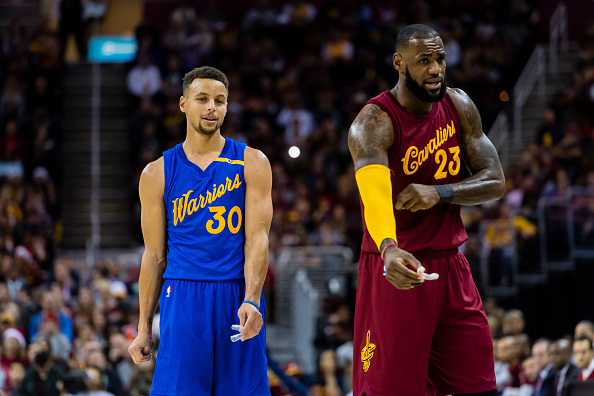 The schoolyard style captains select your teams format for the NBA All-Star was completed last week and Team LeBron and Team Curry are now set.
Now I present Team LeBron…

Here is Team Curry…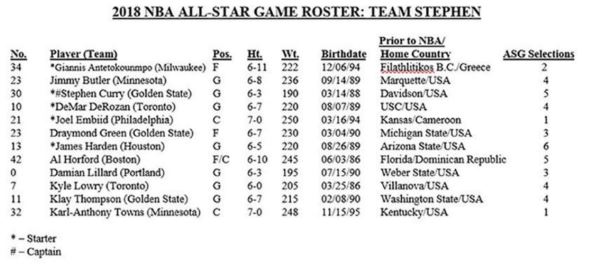 The most interesting selections for either team obviously is LeBron taking Durant with the 1st pick and selecting Kyrie Irving despite the current strained relationship it appears they have, and Steph Curry drafting his western conference rival in James Harden and his other two Warriors teammates in Klay Thompson and Draymond Green.
Upon first glance, if we're talking real basketball here, Team LeBron is easily the far superior team and in a hypothetical seven-game series against Team Curry I would foresee them winning in five or six games.
It is humorous to me to imagine LeBron taking Kyrie Irving solely for the opportunity to be his captain again and remind him where they each stand in the NBA pecking order, but I don't know for certain if LeBron is that petty, he might be, a lot of NBA players are.
The two funniest scenarios to come out of this draft involve another pair of former teammates in Kevin Durant and Russell Westbrook.
Durant commented during an in-game interview Thursday night that he was happy to finally be picked No. 1 and the Blazers didn't shy away from the comment, in reference to their decision to draft Greg Oden with the No. 1 pick of the 2007 NBA Draft over him, they owned up to it…
Our bad. https://t.co/6unnr17EP5

— Trail Blazers (@trailblazers) January 26, 2018
The other hilarious outcome was an apparently slighted and angry Russell Westbrook using the motivation from assuming he was picked last according to LeBron James list that was tweeted out on Thursday afternoon by dropping 46 points on the Wizards. Only to find out after the game that the list was in alphabetical order…
Russell Westbrook asked his thoughts about being picked on LeBron's team, thought he was the last pick. Informed it was just an alphabetical list, he made sure to correct Melo who was heckling nearby. pic.twitter.com/gPMgPr91Kz

— Royce Young (@royceyoung) January 26, 2018
This is hilarious and shows that there maybe nothing scarier in the NBA than an even more motivated Russell Westbrook.
I would love to see who actually was picked last and everywhere in between, but I highly doubt that comes out.