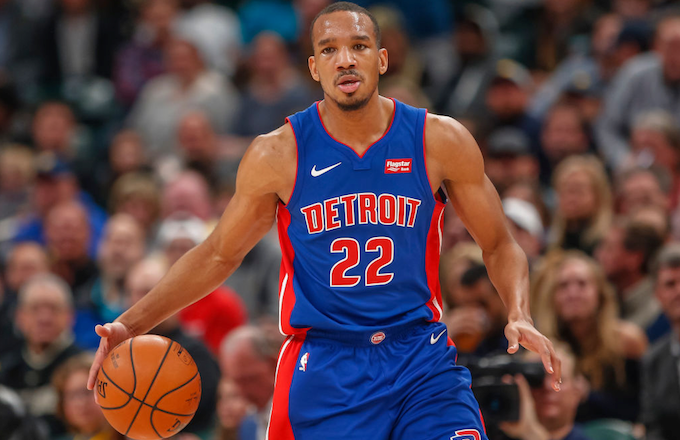 Things have gone south in a hurry in Detroit. The Pistons are losers of eight straight games and are a full three games out of the final playoff spot in the eastern conference.
The timing of this swoon complicates an already complicated situation with starting shooting guard Avery Bradley.
Bradley is on the final year of an extreme value deal, making $8 million per season which is below market value for a top-notch perimeter defender who can serve as your second or third scoring option.
He is averaging 15.0 points, 2.4 rebounds and 2.1 assists in 31.7 minutes per game this season, but is doing so inefficiently on only 40.9% shooting from the field and a 49.7% true shooting percentage.
The Pistons are facing a big decision this summer, whether to give Bradley a large extension to keep him and risk going into the luxury tax, not a wise move for a team that is currently not even a .500 team, or let him walk without recouping any value.
What does a team usually look to do in these situations? Trade the player.
According to Adrian Wojnarowksi, Bradley is on the market… sort of…
"The Detroit Pistons have made starting shooting guard Avery Bradley available in trade talks, league sources told ESPN.

So far, Detroit's asking price for Bradley, who is scheduled to become an unrestricted free agent this summer, is significant, league sources said."
The reality is that Bradley is not the caliber of player who will demand a ton of return value considering he is an unrestricted free agent to be this summer and opposing general managers know that the Pistons are in a tough spot.
How much is Bradley worth as a half season rental if you don't plan on signing him long-term? A couple second round picks, a highly protected 1st round pick, a young, developing player?
Considering the Pistons slide, their non-committal to giving him a big extension this summer (understandable) and their need to avoid the luxury tax and acquire more youth, the Pistons should lower their demands and trade Bradley over the next few weeks.