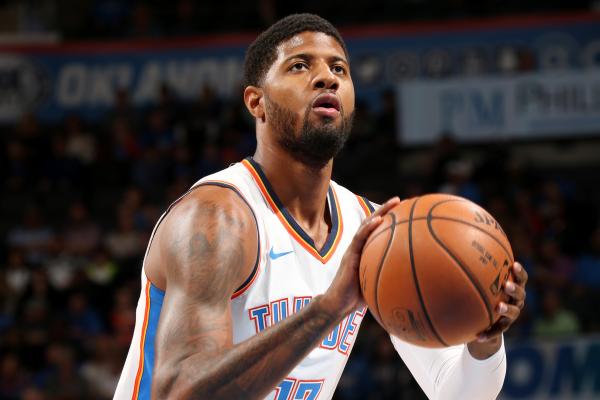 Paul George remains a hot topic within the NBA's rumor mill, and that's not going to change unless the Oklahoma City Thunder figure out the shaky dynamic between him, Carmelo Anthony and Russell Westbrook.
Though they've won seven of their past 10 games, people remain unimpressed with the Thunder. They follow up convincing victories over the Indiana Pacers and Philadelphia 76ers with a loss to the Kristaps Porzingis-less New York Knicks. They barely muster wins against the Paul Millsap-less Denver Nuggets and incredibly shorthanded Memphis Grizzlies. For every sign that suggests they might be headed in the right direction, the Thunder deliver another one or two that disproves confidence.
Players have publicly expressed their frustration—not with one another, but with how long it has taken for them to figure things out. All the while, everyone's wondering whether general manager Sam Presti will look to cut his losses and shop George ahead of the deadline, rather than risk losing him for nothing in free agency.
As of now, though, we needn't wonder. The Thunder aren't at that point yet, nor do they plan to ever be, as one league executive told Bleacher Report's Ken Berger:
According to a league source with knowledge of the team's thinking, the Thunder were under no delusions that George was committing to anything beyond this season when they shipped Oladipo and Sabonis—products of the Serge Ibaka trade with Orlando—to Indiana for the four-time All-Star. Furthermore, the source said, the team has shown no inclination to entertain trade discussions.
The optics have changed since the Victor Oladipo, Domantas Sabonis and Enes Kanter started shining in their current homes, but we have to remember the Thunder viewed two of those guys, Oladipo and Kanter, as cumbersome cap-cloggers. They made these deals for Anthony and George knowing full well both could leave, and that they may have nothing save for some extra cap space to show for it. They were fine with it then, and they're likely fine with it now.
Still, if things don't turn around, the Thunder have to at least see what's out there. Due diligence is part of the job description, and if one team is willing to fork over some shooting, a prospect or two and short-term salary, Oklahoma City shouldn't flinch at turning a probable rental into something and someone of value.