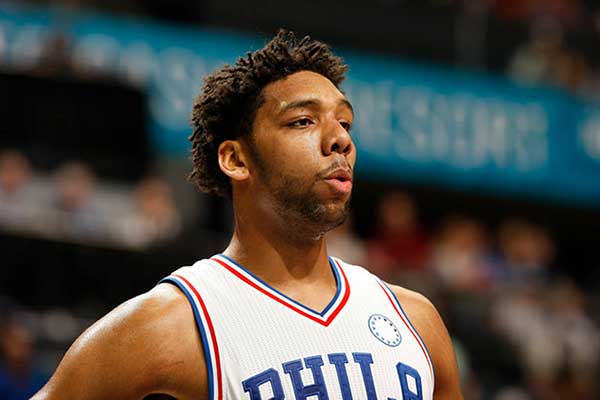 What's next for the Phoenix Suns after trading Eric Bledsoe to the Milwaukee Bucks?
Figuring out what to do with Greg Monroe.
And then, maybe, striking a deal with the Philadelphia 76ers for Jahlil Okafor.
From ESPN.com's Adrian Wojnarowski:
The possibility of a contract buyout could give the Suns freedom to be creative with an open roster spot. Before Dec. 6, the Suns need a spot to convert the two-way contract of productive rookie guard Mike James into a regular roster spot. Also, an open roster spot would give the Suns the chance to become involved in trade talks with Philadelphia 76ers center Jahlil Okafor, a 21-year-old former No. 3 overall pick with whom the Suns have had interest, league sources said.
Phoenix joins a short list of teams still angling to acquire Okafor. The Atlanta Hawks and Chicago Bulls have been considered favorites for the most part, with plenty more suitors slated to join the ranks should he broker a buyout.
The Suns fit is weird. So many people have wanted to put him on the roster in the past, even though Phoenix already has Alan Williams (injured), Dragan Bender, Marquese Chriss and Alex Len, not to mention a 35-year-old Tyson Chandler and, now, Monroe.
Okafor is just 21 years old, so a rebuilding squad like the Suns might just see value in stockpiling upside. But it doesn't make much sense to add him, let alone give up something for him, unless they have the minutes to try developing him. And, right now, the Suns cannot really guarantee that much playing time. Moving Chandler would help, but that's a difficult task unto itself. They don't need to play Len, who doesn't factor into the big picture, but shelving healthy players in their early 20s is always awkward business.
Forget about all that, and the Suns still have Chriss and Bender, with guys like T.J. Warren and Josh Jackson who should see time at the 4. Where does Okafor fit into that? Does he even get 15 minutes per game in that rotation?
Perhaps we'll get the chance to find out.