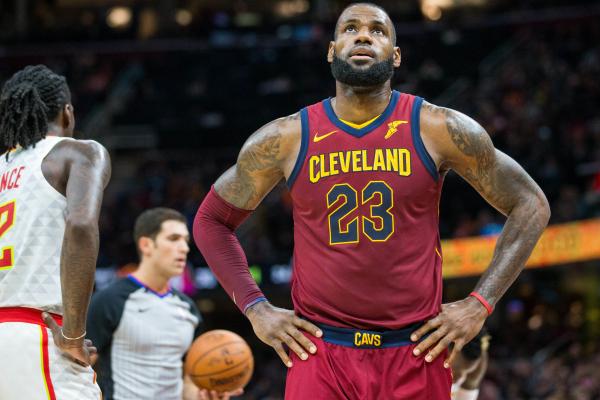 LeBron James wants New York Knicks rookie Frank Ntilikina to know his infatuation with Dennis Smith Jr. is nothing personal.
Well, okay, it's personal. But it's personal with former Knicks president Phil Jackson, not The Big Apple's rookie point guard.
James said the following about Smith, the Dallas Mavericks newbie, over the weekend (via SLAM):
The Knicks passed on a really good one, and Dallas got the diamond in the rough. He should be a Knick.

"That's going to make some headlines, but he should be a Knick.

"Dallas is definitely… I know they're excited that he didn't go there."
The Knicks, of course, rolled with Ntilkina instead Smith. Though this appeared to be a shot at Phil Jackson, who marginalized James' presence off the court last season by referring to his business partners as a "posse," the four-time MVP was ostensibly insulting a point guard who had no hands in his beef with the Zen Master.
Knicks players, naturally, weren't happy–particularly Enes Kanter and Kristaps Porzingis. But James clarified his comments on Monday, specifically for Kanter's benefit, per ESPN's Rachel Nichols and Ian Begley:
LeBron James, asked if his Dennis Smith Jr. comments were a shot at Phil Jackson: "Oh yeah it's definitely a shot at him." Said he didn't mean it as a shot at Frank Ntilikina.

— Ian Begley (@IanBegley) November 13, 2017
LeBron confirms of course he was taking a shot at Phil Jackson when he said the Knicks missed by not drafting Dennis Smith:
"For clarification of people who just live in a box & for Enes Kanter, who always's got something to say. [shakes head] I don't know what's wrong with him."

— Rachel Nichols (@Rachel__Nichols) November 13, 2017
In fairness to LeBron, basically everyone could tell he was throwing shade at Jackson, someone he has every right to destroy. But his execution was fairly tactless. He could have simply said the Mavericks were happy Smith didn't go to the Knicks. That would have been enough.
Actually chastising the Knicks involved Ntilikina, a rookie who doesn't yet have 15 games under his belt. And you can't blame his teammates for interpreting the sentiments as jabs at Ntilikina. What else are they supposed to think? They all know that Jackson indefensibly went at James, but they also know Ntilikina had nothing to do with it.
Besides, if nothing else, LeBron should know what kind of power he holds. People will dissect and read into everything he says. It comes with the territory of being a greatest-of-all-time candidate. He needs to be more exact, and less ambiguous, with his insults if there's even the slightest chance he could be involving an innocent party.