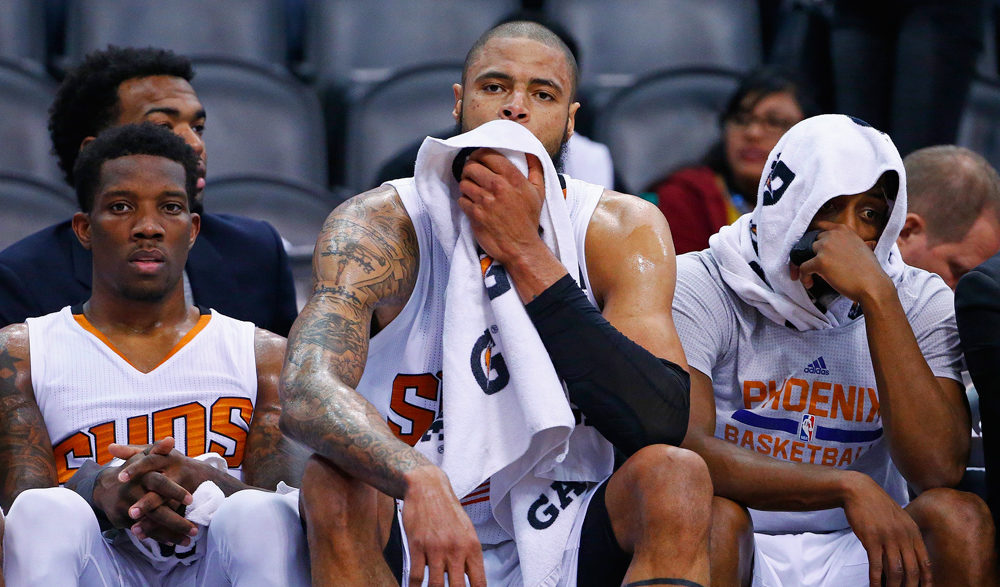 Entering Week 2 of Eric Bledsoe trade watch, we still don't have a great idea of what the Phoenix Suns are looking for in potential returns. We know they're angling for something or someone substantial, otherwise a deal would probably be done. And now, thanks to The New York Times' Marc Stein, we know they're also trying to dump Tyson Chandler as part of any package:
As the Suns seek a new home via trade for Eric Bledsoe, they've explored trying to move Tyson Chandler in the same deal, league sources say

— Marc Stein (@TheSteinLine) October 27, 2017
Unloading both Bledsoe and Chandler in the same package won't be easy. Their salaries aren't ridiculous when viewed separately, but they're two of the Suns' three highest paid players. Together, they earn $27.5 million.
Few teams have the flexibility to provide ample salary-cap relief on two contracts. The ones that do won't be after two players who help them win now. So if the Suns are serious about moving both at the same time, they'll need to take back at least one unsavory deal in return.
And that's not a bad play given their situation. They have the timeline to eat a bad contract. If a team comes calling with a first-round pick and prospect, some expiring salary and one longer-term contract, the Suns can, and should, consider it. They aren't getting that dual-return by moving just Bledsoe. Maybe the Denver Nuggets are willing to package Emmanuel Mudiay and a first-rounder but that's about it.
Chances are the Suns don't end up moving both Chandler and Bledsoe at the same time—not unless they involve third and fourth teams. Very few suitors could use an aging big man to go with a point guard, and the Suns, per ESPN.com's Bobby Marks, haven't yet shown a willingness to bend on their asking price:
Sending him home didn't devalue what offers are coming in. Problem is what the Suns are looking for in return.

— Bobby Marks (@BobbyMarks42) October 27, 2017
The consensus around the league was that Bledsoe was on the trade market even before the Sunday incident.

— Bobby Marks (@BobbyMarks42) October 27, 2017
But keep me in mind that every game that Bledsoe misses is $177K. How long will Suns management hold out for the perfect package?

— Bobby Marks (@BobbyMarks42) October 27, 2017
Don't be surprised if this Bledsoe thing continues to drag on and on and on. The Suns, apparently, have already been knee deep in discussions for a while. Bledsoe's banishment inherently speeds things up, but if owner Robert Sarver doesn't care about footing the bill for a player he isn't using, Phoenix may try and wait out the market until a suitor or two gets desperate.