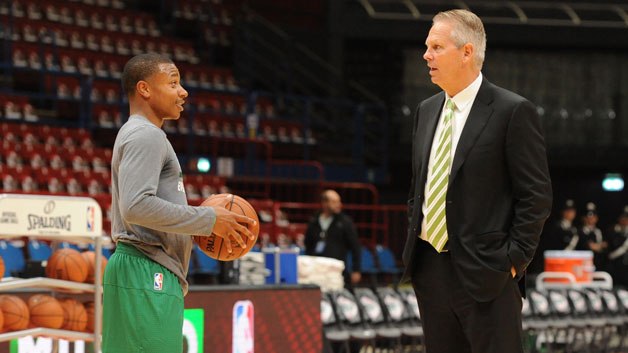 Growing up being the smallest guy on the court your whole life, playing with an extra chip on your shoulder to prove all of your doubters wrong and to dominate your enemies (on a basketball court) becomes ingrained into your DNA.
Isaiah Thomas has been doubted, overlooked and underappreciated seemingly his whole NBA career after being taken 60th in the 2011 NBA Draft after a stellar college career, being allowed to walk by the Kings after a breakout season, being traded for nothing from the Suns after a half a season and now being dealt from the Celtics after averaging 30 points a game and leading them to the eastern conference finals.
Thomas is now recovering from a serious hip injury and the Cleveland Cavaliers are hoping he can get healthy and use that chip to help lead them back to an NBA title.
So does Thomas have any new enemies in Boston after being traded? Only one: Danny Ainge.
Thomas said that he may never speak to Ainge again among many other things in a piece by Lee Jenkins of Sports Illustrated.
Here is an excerpt about his injury, being let go multiple times and the Boston trade:
"Five months have passed and Thomas rises from his kitchen table to stretch his right hip. "No doubt about it, I should have sat out the playoffs," he says. "No way around it, I made it worse."

When Sacramento let Thomas walk in 2014, he left town telling himself, "F— Sacramento. I'm about to kill those dudes." When Phoenix exiled him the following winter, he pledged, "O.K., now they're gonna get it." But there will be no revenge tour this time. "Boston is going to be all love," he vows, with one exception. "I might not ever talk to Danny again. That might not happen. I'll talk to everybody else. But what he did, knowing everything I went through, you don't do that, bro. That's not right. I'm not saying eff you. But every team in this situation comes out a year or two later and says, 'We made a mistake.' That's what they'll say, too."
I think it is impossible not to have immense respect and root for I.T. to some extent, but the cold hard truth is that Danny Ainge made the right move.
Professional sports can be a harsh business and loyalty is scarce but that is the nature of the beast. Thomas was incredible last season and literally left everything he had on the floor for the Celtics organization in spite of his hip injury and family tragedy, but paying a 5'9″ point guard north of $30 million per season in his 30s with a hip issue when you can deal him for a younger star in Kyrie Irving doesn't make the best business sense.
As a basketball fan I hope that Thomas is healthy and back to being himself sooner rather than later and that we get our Cavaliers-Celtics playoff battle.