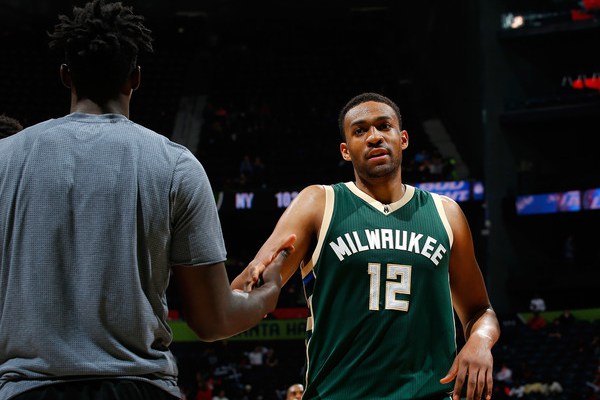 The Milwaukee Bucks aren't going to get Jabari Parker back from his second ACL injury anytime soon.
According to ESPN.com's Zach Lowe, the sweet-shooting forward, who cleared 20 points per game last season before suffering his latest setback, isn't expected to rejoin the team until sometime in February:
Continuity helps, and their starting lineup with Malcolm Brogdon, Thon Maker, Khris Middleton and Tony Snell — and without Jabari Parker — blitzed opponents by 12 points per 100 possessions once Jason Kidd landed on it.

But, man, are they thin until Parker comes back — likely in February at the earliest, per league sources. Their top three reserves are Matthew Dellavedova, Mirza Teletovic and Greg Monroe. Teletovic spent time out of the rotation last season, and lineups pairing Dellavedova and Brogdon — a necessity given the short bench — were a disaster. Monroe might be the single most important bench player in the league.
The "at the earliest" disclaimer here is pretty damning. It almost implies he may not be ready to rock until after the trade deadline and All-Star break—closer to March.
For their part, the Bucks won't miss him much in the starting lineup if last season was any indication. They absolutely blitzed opponents when Giannis Antetokounmpo, Malcolm Brogdon, Tony Snell, Khris Middleton and Thon Maker shared the floor, according to NBA.com. The sample size isn't huge, but it's large enough to where you'd have wanted to see more of this lineup even if Parker was healthy.
Things get a little hairier when looking at the bench, where the Bucks don't have a clear identity. They don't project as a good defensive unit with their second-stringers. Playing Parker with the starters while moving Snell to the bench would have given them a workaholic on the defensive end to help bridge the gaps when two of Antetokounmpo, Brogdon and Middleton are on the pine.
Uncomfortable still, Parker is barreling toward restricted free agency. Not having him for what amounts to most of the season kills the evaluation process. He could be bad as he works his way back, in which case the Bucks don't know what to pay him. Or he could be good, in which case the Bucks still won't know what to pay him out of fear future injuries could ruin that momentum.
With Joel Embiid and Andrew Wiggins agreeing to extensions, Parker's contract situation now becomes the most interesting among the impending restricted free-agent pool—and not necessarily in a good way.