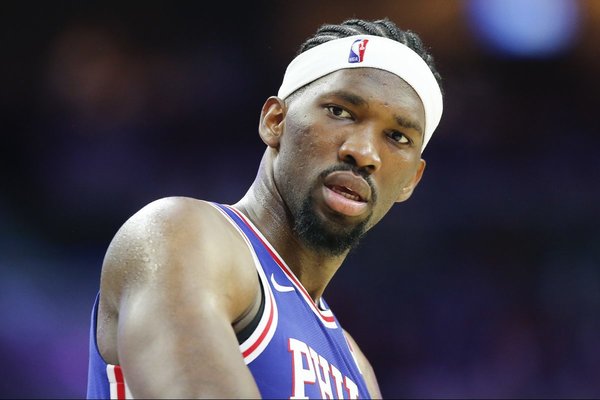 Andre Drummond made the mistake of talking trash to Joel Embiid on Monday night, and it, quite predictably, didn't end well for him.
Embiid tallied 30 points, nine rebounds and two steals on 11-of-15 shooting—plus seven turnovers—in the Philadelphia 76ers' 97-86 victory over the Detroit Pistons. Afterwards, when asked about getting the best of the battle in the middle versus Drummond, Embiid didn't even kind of hold back, per Philly.com's Keith Pompey:
"Defensively, he doesn't play any defense," Embiid said of what he saw. "When we started the game, he was being aggressive and he was talking, too. … So what I was like [in my mind] 'You want to do that? I'm going to kick your [butt] then. So that's what I did."

…

"In my mind, I was like, 'You want to switch up, because you are playing against me,' " he said of Drummond. " 'You want to be all physical and talk [trash].' So I was like, 'you are going to get our [butt beat].' I love that."
Saying that Drummond 'doesn't play any defense' is definitely too strong. But Embiid also isn't wrong. Drummond is still trying to find himself on the defensive end. He's hesitant and inconsistent in his pick-and-roll coverages, and his reads around the rim appear to be deteriorating.
Last year, the Pistons' defense improved by more than nine points per 100 possessions when Drummond stepped off the floor, according to NBA.com. This season, four games into the schedule, it tightens up by a whopping 18.4 points per 100 possessions when he's not playing.
Sure, it's early, and lineup configurations have a lot to do with these on-off numbers, and all that good stuff. But Drummond's defense has regressed into a red flag. There's no denying that anymore.