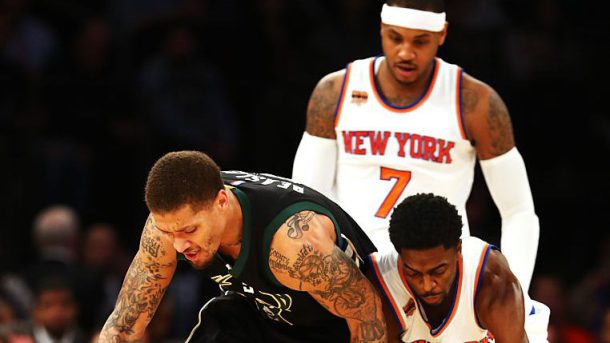 Former Minnesota Timberwolves general manager David Kahn thinks the New York Knicks may already have Carmelo Anthony's replacement on the roster.
Or something.
And it's Michael Beasley.
Speaking with the New York Post's Marc Berman, Kahn, who brought Beasley to Minnesota from the Miami Heat in 2010, expressed that the walking buckets-getter may be just what the Knicks need in the event of a Melo trade:
"If he's being brought in to provide some offense if and when Carmelo leaves, you'll have that (quality) because he can definitely do that,'' Kahn said. "He can score. Kurt wanted the [Minnesota] deal badly. We needed scoring.

"I remember at the voluntary workouts before that season, Kurt being very excited at positions he could put him on the floor to score. His ability to score is undeniable with his terrific lateral movement and explosiveness. If they're going to lose Carmelo, I imagine Kurt gave him a very positive review as a guy who can figure out how to get his shot up.''
To be clear: Kahn isn't outright calling Beasley a good Melo supplementation. He's just saying Beasley brings that quality. He's also saying Knicks assistant Kurt Rambis is extremely high on the 28-year-old scorer.
Which, whatever. The sentiment holds some validity. But Anthony, despite his glaring flaws and age, remains one of the purest scorers in the game. You don't replace him with Beasley.
And for what it's worth, Beasley himself doesn't expect to be put in that position. At the very least, the Knicks haven't kicked around the idea with him, per ESPN.com's Ian Begley:
Michael Beasley says Melo is a mentor & he's looking forward to playing with Melo. Says management hasn't talked to him about a Melo trade

— Ian Begley (@IanBegley) September 19, 2017
So there you have it. Melo and Beas are friends, the Knicks have another scorer who doesn't play defense, Rambis is happy about it, and this may or may not be a preemptive move to sustain shot creation in the increasingly unlikely event No. 7 gets dealt before the start of 2017-18.
Fun times.