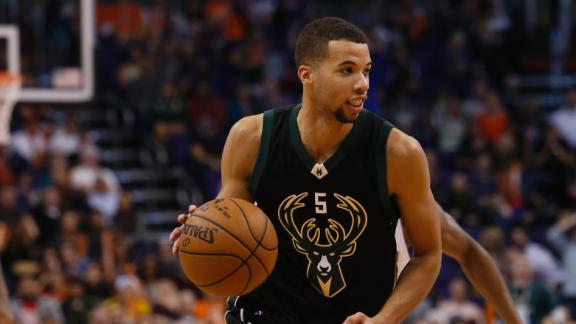 Michael Carter-Williams has seen his NBA stock fall off of a cliff since his impressive rookie campaign in which he won Rookie of the Year as a member of the 76ers in 2013-14.
Carter Williams is now on his 3rd NBA team in the past 12 months and is slated to be the back up point guard in Charlotte behind Kemba Walker next season.
This is a great opportunity for Carter-Williams as Charlotte has struggled to find a true back up for Walker and their lack of depth in the back court in general means that MCW would seemingly have plenty of opportunity to carve out a nice role.
Unfortunately, that opportunity could be in jeopardy now as he is expected to miss the first part of the 2017-18 season while recovering from knee surgery.
.@hornets update: Michael Carter-Williams had a knee procedure in August and is not yet back on the court (more)…

— Rick Bonnell (@rick_bonnell) September 8, 2017
Steve Clifford says it is not a given MCW will be ready for the season-opener.

— Rick Bonnell (@rick_bonnell) September 8, 2017
The Hornets lack of depth will be sorely tested with MCW out since they will now be relying on fringe NBA player Julyan Stone to fill their back up point guard role to start the season.
The Hornets were outscored by seven points per 100 possessions with Walker on the bench last season, they will have to improve that if they want to return to the playoffs in 2018.