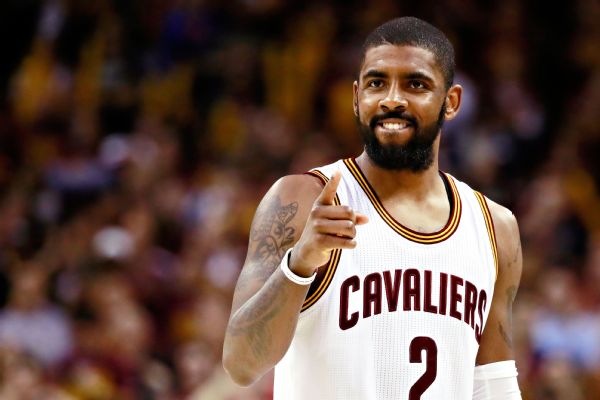 The Kyrie Irving trade is done.
The drama surrounding it, however, is not.
Irving is now officially a member of the Boston Celtics after they greased their package of Jae Crowder, Isaiah Thomas, Ante Zizic and the Brookly Nets' 2018 first-round pick with another second-rounder. Now, with him gone, the Cleveland Cavaliers can move on.
Only, that transition may have to wait until next season…when LeBron James is playing for a different team…which Dan Gilbert believes is inevitable.
According to The Ringer's Kevin O'Connor, it was the Cavaliers owner, not general manager Koby Altman, who ran point on the Irving trade, in large part because he firmly believes James will bolt over the summer:
Koby Altman may be the latest person to call himself Cleveland Cavaliers general manager—the fourth in the past 12 years since Dan Gilbert bought the team—but multiple sources have told me that the Cavs owner was the one calling the shots on the trade that sent Irving to Boston, and he's the one dealing with the fallout. Gilbert's dysfunctional ways are old news. Gilbert himself joked during Altman's introductory presser that his GMs have four-year presidential terms. "A state of organizational chaos is Gilbert's M.O.," one executive told me. "Gilbert thinks he's the protagonist in the story of the Cavaliers, when, in reality, he's the antagonist."

…

Multiple sources told me that Gilbert is operating under the assumption that LeBron will opt out of his contract next summer and leave Cleveland. So Gilbert and Altman targeted Irving trade packages that set up the franchise for the post-LeBron era, rather than the instant-gratification deals they've made over the past three years (e.g., trading first-rounders for Channing Frye or Kyle Korver).
Gilbert needling his way into trade negotiations is hardly ideal. Owners are supposed to pay general managers to handle that due diligence—to make those tough decisions that they, for the most part, aren't qualified to make.
All that said, The Cavaliers' approach in negotiations is understandable, if outright respectable. Even if they're incredibly sure James is returning, tethering their future hopes only to him at this point is a risky game. The Golden State Warriors exist, and he's already left once. Hedging your bets is just good business.
That's what they did here, in spectacular fashion. Crowder helps them defensively against the Warriors, and Thomas, should he get healthy and return to form, is close to a lateral offensive move to Irving. The 20-year-old Zizic, meanwhile, is basically an extra first-round pick, and the 2018 Nets selection should still fall in the top five, putting them in prime position to draft a cornerstone they can build around for the next half-decade-plus if James leaves.
Again: The dynamic between Gilbert and whoever his general manager is this year feels off. But the Cavaliers crushed the return on this trade, both for what it could help them do with LeBron and what it might enable them to do without him.