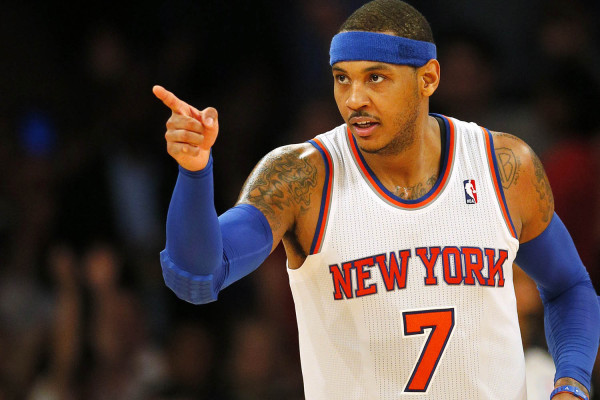 Carmelo Anthony isn't about to do the New York Knicks any favors.
To the contrary, he seems prepared to restrict their movement even further than before.
Though it was initially believed Anthony would accept a trade to either the Cleveland Cavaliers or Houston Rockets, his list has shrunk to include just the latter, according to ESPN.com's Ian Begley:
Here's why: Carmelo Anthony's top choice in any trade, as of late Tuesday night, was to end up with the Houston Rockets, per league sources. Basically, nothing has changed since ESPN's Adrian Wojanarowski reported over a week ago that Anthony still expected the Knicks to carry out their previous plans to trade him to Houston.

Now, things can evolve quickly in the NBA. Anthony can shift his thinking on his no-trade clause and where he'd like to end up at any time. But as of Tuesday night, landing in Houston remained his top priority over all other potential trade destinations, including the Cleveland Cavaliers.
There are zero surprises here. Anthony was already favoring the Rockets and a partnership with James Harden and Chris Paul. That feeling is bound to have intensified now that Kyrie Irving has requested a trade out of Cleveland. Playing with him and LeBron James was part of the mystique attached to the Cavaliers. With him gone, and LeBron slated for free agency next summer, the Rockets look like a much better destination.
Indeed, Anthony and James are close. And Melo can leave Cleveland with LeBron next summer if that's what it comes to. But the former has a $27.9 million early termination option he isn't matching on the open market. Joining the Rockets, who are expected to keep Paul beyond next season, allows him to opt in without worrying about his buddy seeking  greener pastures without him.
Someone has to blink first here. The Rockets need to up the ante in offers, the Knicks need to lower their asking price, or Anthony needs to expand his list of preferred destinations to include Cleveland and other franchises.
Which side will fold first?
Honestly, it's too hard to tell. The safe bet is the Knicks, because they're the Knicks, and they have zero leverage. But they've held out this long. Maybe they have it in them to risk leaking this into next season and forcing the hands of Houston and/or Melo.