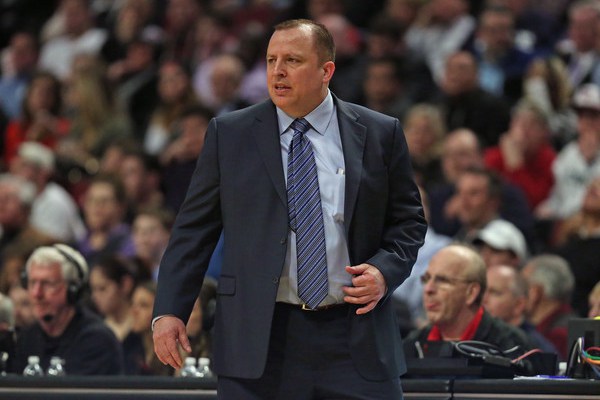 Tom Thibodeau, head coach and president of the Minnesota Timberwolves, is no softy—unless you compared him to Kentucky head coach John Calipari.
Okay, fine. That's not exactly what Karl-Anthony Towns told CBS Sports' Reid Forgrave. But he did say that Coach Cal has was much harder on him than Thibs is now:
Q.Who's tougher on you, Thibs or Cal?

A. Haha. Ahhhh … I'ma say Cal. Cal was very hard on me. Thibs is hard on me, but Cal was otherworldly hard on me. It was definitely something I enjoyed, funny enough. I was always able to take the criticism. I was always able to talk to him. They both have love for me.
We need someone to sit-in on a bunch of Kentucky practices immediately. Or maybe we should poll other Kentucky products like Anthony Davis, DeMarcus Cousins, Michael Kidd-Gilchrist, Devin Booker, John Wall, Eric Bledsoe, etc. to see whether this can be confirmed.
Coach Cal has never had a Mr. Softee-level reputation, but, like, this is Thibs we're talking about! Champion of no rest! Author of "We have more than enough to win!" even when, in fact, his teams don't have enough to win. Think of Luol Deng's knees. Joakim Noah's everything. How could Coach Cal be harder to play for? Is it because he's dealing mostly with teenagers and needs to be the authoritarian figure his kids won't dare defy?
Who knows. What we do know, though, is that Thibs needs to step up his toughness game. He can't have Calipari outdueling him in that department.