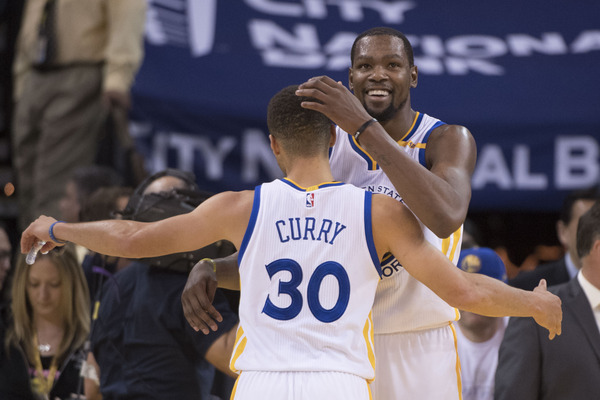 When the Golden State Warriors take the court against the Portland Trail Blazers in Game 2 of their first-round playoff matchup, they may be without Kevin Durant.
After injuring his left calf in Game 1, Durant is officially questionable, per ESPN.com's Chris Haynes and NBC Sports' Rosalyn Gold-Onwude:
Kevin Durant has a left calf strain and is questionable for Game 2 against Trail Blazers.

— Chris Haynes (@ChrisBHaynes) April 18, 2017
Steve Kerr said Kevin Durant hurt his calf in Game 1, did not practice today.

— Rosalyn Gold-Onwude (@ROSGO21) April 18, 2017
It feels weird brushing this off. Kevin Durant is still a top-five, top-seven, player. He was a top-five MVP candidate before suffering his sprained MCL in February's finale against the Washington Wizards. His absence should mean everything to the Warriors.
And yet, it doesn't.
The Warriors have enough star power and depth to soldier on without Durant. They proved that during his latest protracted absence. Stephen Curry and Klay Thompson detonated nightly, and Andre Iguodala stepped in to fill the defensive and playmaking voids.
Yes, if you're the Warriors, you want Durant on the floor, because duh. But it's more important you have him in later rounds, specifically the Western Conference Finals and NBA Finals, with potential matchups against the Houston Rockets or San Antonio Spurs and Cleveland Cavaliers looming.
Sitting him for Game 2, and perhaps slightly beyond, will have no bearing on their ability to get out of the first round and remain title favorites.