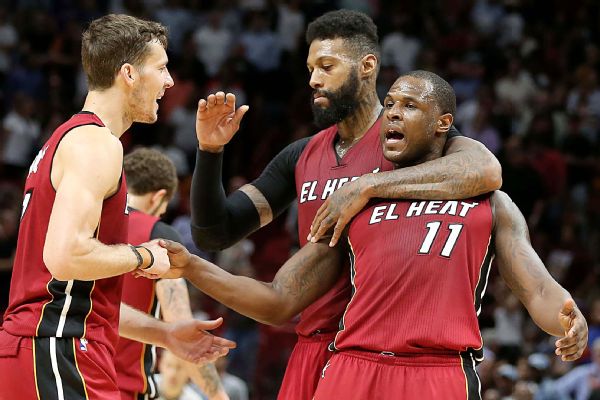 The Miami Heat were very fun this season. After starting 11-30, they went 30-11 the rest of the way, posting the second-best record in the damn league for half the freaking season. They missed the playoffs, but whatever. They were entertaining to watch, even when Dion Waiters went down with an ankle injury.
But will their reign as one of the NBA's foremost feel-good stories be short-lived?
It sure could.
James Johnson, Dion Waiters and, less notably, Willie Reed will all be free agents. The Heat don't own their Bird rights or Early Bird rights, so with the market being what it's expected to be for them, team president Pat Riley would have to dip into cap space to keep them.
This isn't a huge problem. The Heat will have  plenty of cap space if the final two years of Chris Bosh's deal gets wiped from their ledger. But that spending power, knowing Riley, will be devoted to pitching stars. And that could leave Johnson, Waiters and Reed, plus Wayne Ellington and his non-guaranteed deal, on the outskirts of the immediate picture.
Goran Dragic, for his part, will try to make sure that doesn't happen, per the Palm Beach Post's Anthony Chiang:
* Will you try to convince James Johnson and Dion Waiters to return to the Heat?

"Definitely. James and Dion, they know how we feel. They know that we want them back. Everybody is so close that it's going to be hard for them to choose some other team, too. Hopefully they stay."
Again, the futures of Johnson and Waiters are in the Heat's hands more than anything else. They will have the money to keep them. This is a matter of Riley's willingness to spend it. If Johnson and Waiters are open to once again accepting discounts to remain with the team that facilitated their breakouts, then their return becomes that much more likely.
But this is also their time to cash in. Waiters missed out on lucrative deals last summer when everyone and their second cousin twice removed by divorce was signing them; Johnson has spent his entire career basically searching for a long-term contract. They'll have the opportunity to secure a lifetime's worth of stability, a chance that could price them out of Miami.