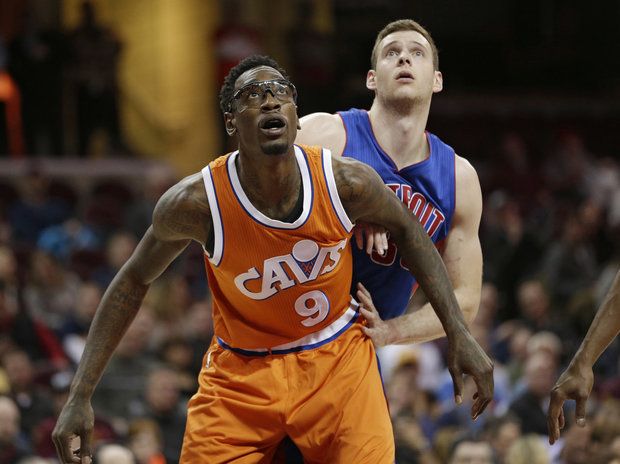 The Cavaliers experiment with Larry Sanders to see if he could be a useful rim protecting big man for them has appeared to end before it truly started.
Sanders appeared in only five games, a total of 13 minutes of playing time, and mustered four points, four rebounds and one block before being waived by the team on Wednesday.
ROSTER UPDATE: #Cavs waive Larry Sanders.

DETAILS: https://t.co/1LYGqNosFC pic.twitter.com/gBFE97Yc7G

— Cleveland Cavaliers (@cavs) April 12, 2017
They used their freed up roster spot to sign 7'3″ center and former Atlanta Hawk Walter "Edy" Tavares.
Cavs are waiving Larry Sanders to make room for 7'3" Edy Tavares. (Y!) pic.twitter.com/zp7RuhOw2C

— NBA Quick Report™? (@NBAquickreport) April 12, 2017
Tavares has been starting for the Toronto Raptors G-League affiliate the Raptors 905, and averaged 10.6 points, 7.7 rebounds and 2.6 blocks for the G-League's highest rated defensive team in the 2016-17 season.
Tavares is clearly not the most mobile big man with his size, but he has excelled as an elite rim protector in the G-League in 24 minutes per game or so for a 39-11 team. He clearly is in better basketball shape and in a better position to add some rim-protection and front court depth for a Cavaliers team this postseason if called upon sparingly than Larry Sanders would have been able to.
While Andrew Bogut would have been ideal before his lower leg injury in his first Cavaliers appearance, this is maximizing their potential for a rim-protector at the very last minute before the 2017 NBA Playoffs.
The Cavaliers also waived DeAndre Liggins to acquire well-respected and liked veteran and former Cavalier Danthay Jones for the playoffs as well.
It appears the Cavs road to the NBA finals may be a little pricklier than it has been the last two seasons.