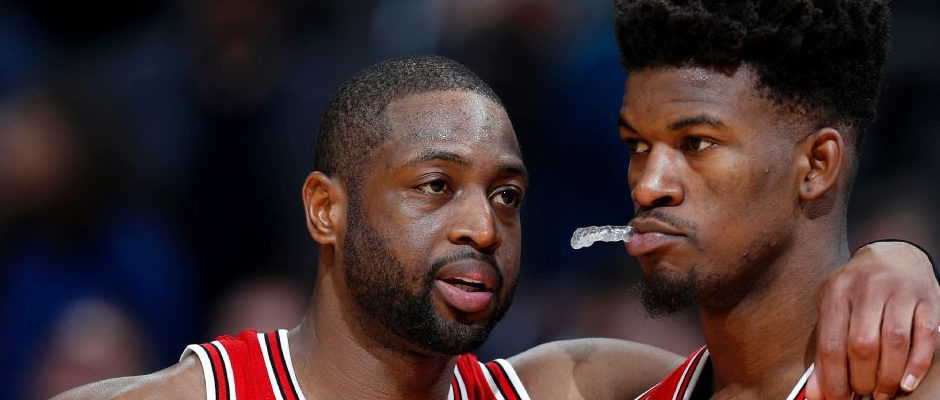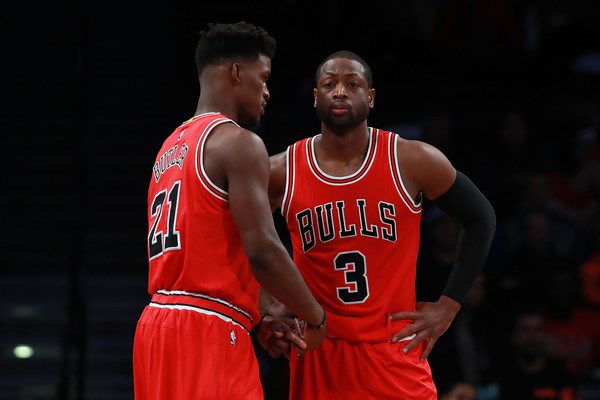 Most players in Dwyane Wade's situation probably wouldn't think twice about their upcoming player option. He's 35. He just suffered a season-ending elbow injury. He's not getting the $23.8 million he's slated to earn anywhere else. It might take him more than two, or even three, years to recoup that cash.
Exercise the option, and bask in the riches.
But the decision isn't that easy for Wade, according to Jimmy Butler. As the All-Star shooting guard told reporters, per the Palm Peach Post's Tom D'Angelo:
"I still think he's got a lot more basketball left if you ask me,'' Butler said last week. "I think everybody knows that I really like the guy as a person. He's taught me so much on the floor, off the floor, but that's his decision. You've always got to do what's right and not only for him but for his family. But that choice is weighing on him because it is a player option.

"I tell D, 'You do what you have to do.'''
Wade's decision will no doubt be impacted by whether the Chicago Bulls are gearing up for a full-scale rebuild. He doesn't want to be part of a reclamation project at his age. If they tell him they're starting over, he might walk.
Then again, this is a lot of money, and the Bulls aren't exactly forthcoming. If the plan is to retain Butler, Wade might view that as as enough to stick around.
Besides, where else is he going to sign?
The Cleveland Cavaliers spring to mind. But is he willing to be a backup playmaker for part of the taxpayer mid-level exception, or even the veteran's minimum? Has he really reached that point?
And if not Cleveland, then where? The Denver Nuggets and Milwaukee Bucks were involved in his free agency last summer, but the former has a glut of wings, most of whom, unlike Wade, can shoot threes, while the former doesn't have a ton of cap space or the need for another drive who doesn't space the floor.
No wonder why Wade's decision is weighing on him roughly three months before he has to make it.