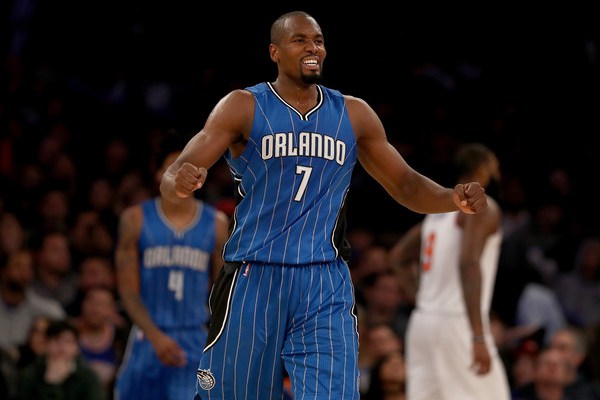 Imagine adding Serge Ibaka to the Houston Rockets' current core.
Pretty sweet, right?
The Houston Rockets are apparently thinking along the same lines, according to ESPN.com's Calvin Watkins:
There is also some interest in Orlando power forward Serge Ibaka, who is apparently is on the trade block. Ibaka scored 28 points in 40 minutes in the Magic's loss at Houston on Tuesday night. Ibaka would bring a defensive presence and another shooter that could fit into Mike D'Antoni's offense. In late December when the Rockets lost starting center Clint Capela to a fractured fibula, ESPN's Marc Stein reported Houston entertained acquiring Sacramento center Kosta Koufos.

"I think if we do anything, it will be for depth," Morey told ESPN. "I don't see any big things happening. We got a good thing, a good rotation, good chemistry. I'm pretty reluctant to make any changes there."
As general manager Daryl Morey sort of alludes to, don't expect the Rockets to make a starry splash at the deadline. They are able to fork over a future first-round pick for Ibaka, but they would have to sell the Orlando Magic on a package built around K.J. McDaniels, Corey Brewer and, perhaps, Tyler Ennis, in addition to a future first-rounder.
That likely doesn't get the job done. The Magic have to sell low, because Ibaka is about to become a free agent and will either leave or force them to invest max money in his services. But getting a late first-rounder wouldn't be all that valuable.
Orlando is better off holding out for a top-seven or -10 protected pick from a fringe lottery team that can also trade a nice wing who isn't Brewer.