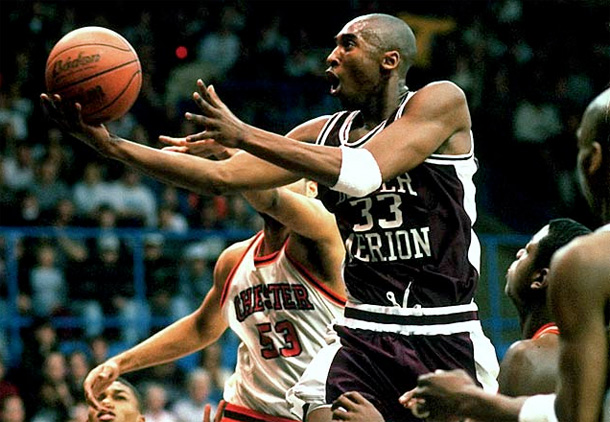 Before Kobe Bryant was a legend on the NBA court and a five-time NBA champion, he was a legend in the rich history that is the Philadelphia high school basketball scene.
Kobe averaged 30.8 points, 12.5 rebounds, 6.5 assists, 4.0 steals and 3.8 blocks per game as a senior at Lower Merion High School in the 1995-96 season before being taken 13th in the 1996 NBA Draft by the Charlotte Hornets and being traded to the Los Angeles Lakers.
As you can imagine, there is a fair amount of trophies and memorabilia associated with his tenure at Lower Merion and apparently some of it was stolen from the school over the weekend.
Several pieces of Kobe Bryant memorabilia, including a jersey and signed shoes, were stolen from the Mamba's HS https://t.co/25gtlliPxM pic.twitter.com/zSSvOfi2KG

— Bleacher Report (@BleacherReport) February 6, 2017
Philly.com reported Monday morning that the school discovered Sunday evening that several pieces from the "Kobe Shrine" that was outside of the Lower Merion high school gymnasium.
According to the report, The thief busted a lock on the display case and took Bryant's framed high school jersey, several pairs of signed Nike sneakers and the 1996 state championship trophy and net.
School authorities are investigating surveillance to see who may have committed the theft.
I'm sure the Black Mamba himself has little concern or anger over the incident, for the school's sake hopefully they can retrieve the stolen memorabilia though.