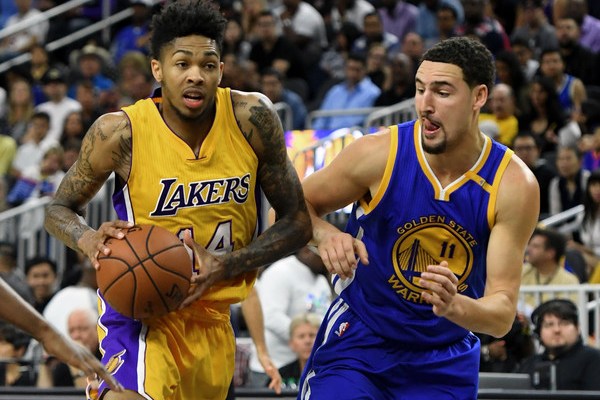 Unlike fellow Los Angeles Lakers kiddies D'Angelo Russell, Jordan Clarkson and Julius Randle, Brandon Ingram never got to experience Kobe Bryant's farewell tour from the sidelines. And that means he never got to soak in the wisdom and mentorship of an aging Bryant, who despite bilking his young teammates of touches, was just a delight to deal with during the final season of his career.
No matter, though. Kobe apparently texted Ingram recently to offer him whatever guidance the Duke product seeks, per Bleacher Report's Kevin Ding:
Ingram has been longing all season for the chance to connect with Bryant, yearning to find out specifically "whatever he did his rookie year to get prepared" and generally about that killer mentality that Ingram called "unreal."

Ingram's wish came true Wednesday when he got a text message from Bryant—"What up, youngin? It's Kobe. Hit me up"—to open the door to what could be a wealth of information. Ingram initially didn't believe it was really Kobe.
Don't worry, Brandon. We've all been there, when Kobe texts us, telling us its Kobe, and we never believe it's Kobe.
It's pretty cool that Bryant, in his first year of retirement, reached out to Ingram. It shows he's emotionally invested in the state and livelihood of the Lakers franchise. And while there was never any doubt he would maintain this connection, some players might try to distance themselves from the job they spent two decades doing for, you know, at least a year.
Bryant, to be sure, isn't a perfect model for Ingram on the court. That kind of ball-stopping game doesn't have much of a place in the NBA anymore. Comparisons to Kevin Durant and Paul George are more valuable, in that they imply Ingram has the ceiling of an elite playmaker, defender and shooter, even if he never perfectly actualizes those projections.
It's nevertheless good to expose Ingram to Bryant's competitive spirit. If there was one thing Kobe never wanted for, it was work ethic and a desire to win. Imparting any of that mentality unto Ingram, even in the sense of just telling him how to handle the grind of everyday NBA life, would translate into a win for the Lakers.