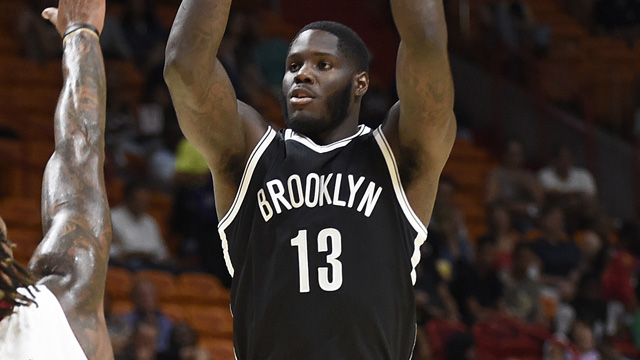 The story of Anthony Bennett's NBA career has become a very sad tale and appears that it may have had its final moment.
Bennett was released by the Brooklyn Nets Monday morning after averaging 5.0 points and 3.4 rebounds in 11 minutes per game in 23 appearances this season.
The Nets just released former No. 1 overall pick Anthony Bennett and will sign Quincy Acy to a 10-day deal to replace him, ESPN sources say

— Marc Stein (@ESPNSteinLine) January 9, 2017
Bennett is the former No. 1 pick of the 2013 NBA Draft. He was an exciting, explosive power forward prospect that some thought could be the Larry Johnson of the new generation.
That hasn't come to fruition though, as Bennett has potentially established himself as the biggest draft bust in NBA history. A player who had the lowest Player Efficiency Rating for a No. 1 pick in NBA history as a rookie at 6.9 and one who has been unable to stick with four different NBA franchises including the Cavaliers who drafted him No. 1, the Timberwolves, Raptors and now the Nets.
Bennett has never been able to crack an NBA rotation, averaging no more than 15.7 minutes per game with Minnesota in the 2014-15 season, and has flashed very little of that potential that made him an attractive draft prospect as he has struggled in all facets of the game.
After flaming out with his fourth franchise, it seems as though the 23-year-old will have a hard time finding another NBA opportunity without establishing himself as a viable and successful professional overseas first.
Crazy to think that the No. 1 pick of the 2013 draft is already potentially out of the league and not as a result of chronic injury issues or that the team that selected him has made the last two NBA Finals and won an NBA Championship (because of the return of LeBron of course).
Here's to hoping Bennett can salvage his career.